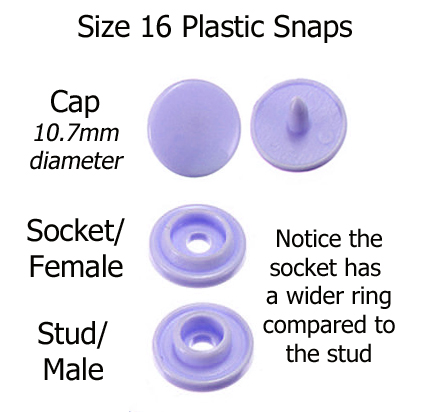 #16 snaps are our second most popular KAM snap size after #20 and are commonly used for baby and toddler clothing, pacifier clips, ribbon, mama pads, and small crafts.
• Cap diameter is 7/16" or 10.7mm.
• #16 sockets and studs are identical to #14 sockets and studs. Only the caps are different.
• Caps are available in standard prong length (4.2mm) for thinner material as well as long prong lengths (5.2mm, 6.2mm, 7.2mm) for progressively thicker material.
• #16 caps can be combined with #20 sockets and studs.
To install these snaps, you'll need either a table-top KAM snap press with a 3-piece set of corresponding #16 dies, or hand-held KAM snap pliers. Read more.