How to Make Fabric Covered Snaps
How to Make Fabric Covered Snaps
Video tutorial provided by Granni Sew
Written tutorial provided by See Suzie Sew

As requested......here's how I do my fabric covered snaps, super easy and looks like a fabric covered button without the drama of a buttonhole!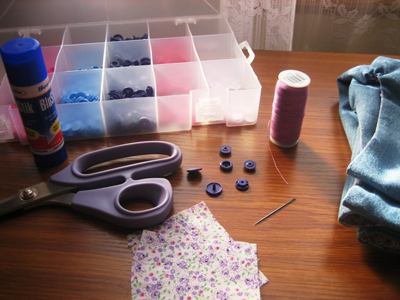 A snap press, mine is a KAM, very handy little device

Snaps, (any size would work, mine are size 20-- they can be any colour which is fabulous because I have only odd colours left over from my nappy making days)

Needle, thread, scissors, scraps of fabric and a glue stick, (very essential sewing accessory)
Step 1: Using the glue stick, glue you snap cap onto the scrap of fabric
Step 2: Go and hang the washing out, pick up the kids from school or cook a batch of cookies. Basically you need to let those little caps dry completely so they don't gum up your snap press.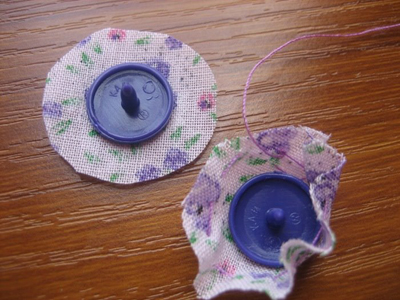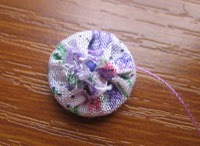 Step 3: Trim around your cap, I leave about a smidge over a 1/4 of an inch.
Thread your needle with a length of thread and knot the end with a double knot. Stitch around the edge of the fabric circle with a running stitch
Step 4: Pull the gathering stitches gently so that the fabric gathers around the snap and then sew a few stitches back and forth across the back of the cap to secure it. Make sure the fabric is smooth against the edge of the cap and not puckered.
Step 5: Push the pointy bit of the cap through whatever you are snapping and place it in your press. I usually place a tissue between the cap and the press so as not to goo up my fabric as snap presses can sometimes be a little oily and may leave a mark on your fabric. Snap away! Trim that loose thread which should be securely trapped between cap and fabric and you're done!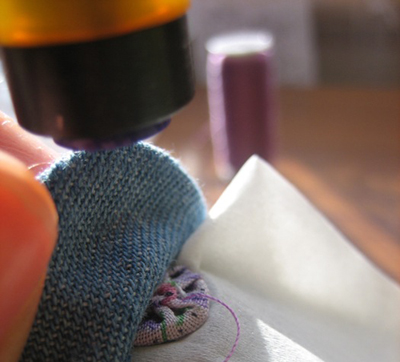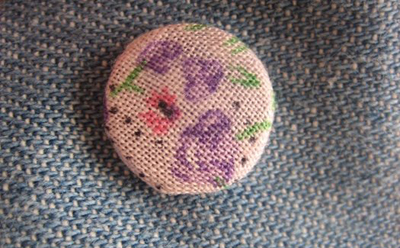 Here's my ever ready model and partner in crime, Mary, modelling her new pinnie with fabric covered snaps!