Reward Points
Our Reward Points program will be discontinued at the end of 2013 as we roll out other types of discounts. If you have accrued points, please be sure to redeem them prior to that. We apologize for any inconvenience!
Earn points on all of your purchases
$1 spent at KAMsnaps.com earns you 1 Point.
Redeem your points instantly at checkout with Reward Points
You can use the points you earn to buy the stuff you want right at checkout.
See your points automatically

Pay for all or part of your purchase - there's no minimum

Every 25 points = $1.00 towards your purchase (every 1 point = $0.04 towards your purchase)*
The Reward Points program is our way of thanking you for being a loyal shopper with KAMsnaps.com. All you need to do in order to earn Reward Points is make a purchase. You'll earn 1 point for every dollar you spend. (Does not apply to purchases of gift certificates or wholesale or other discounted orders.)
You can use your points to pay for part or all of your order. There is no minimum on how many points you need in order to start using them.
To use your points to pay for an order:
Select "Use my reward points" as your payment method on the checkout page.

Click the Continue button. Your points will be applied to your total.

After your points have been applied, select the payment method you would like to use to pay for the remainder of your total.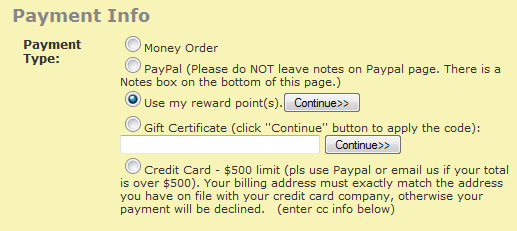 To check the balance of your Rewards Points, login to your account, then look in the My Account box near the bottom of the page.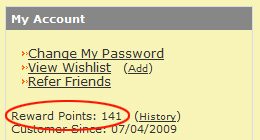 Also learn how you can earn 100 points (equivalent to $5) for each friend who shops our store through our Refer-a-Friend program!
Reward Points Details
If Points earned are not automatically applied to your account, just send us an email to let us know and we'll manually add the them to your account.
Reward points cannot be transferred between accounts so please make sure you always log in using the same email address.
Points cannot be redeemed for cash and can only be used towards products on KAMsnaps.com.
Points cannot be refunded on cancelled orders

.
* Updated 3/23/2013.