How to Make a Wallet & Cell Phone Cozy
Tutorial below provided by Cheyanne
Step 1: Give 3 year old daughter some crayons and paper and turn on Hannah Montana so she stays out of your way for 20 minutes =) (if you don't have kiddos in the house, you may skip this step)

Now you need a pattern. I use tissue paper (and gold paper cause I'm awesome), but any paper will do. Hell, sometimes I just wing it and don't use a pattern at all.

I've found that 8" x 5" is a good size for the wallet, so make it a little bigger for seam allowances.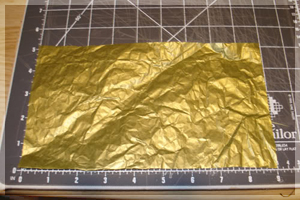 Cut out two pieces, I used this cute lemon fabric but a neato thing to do is use a different fabric for the lining.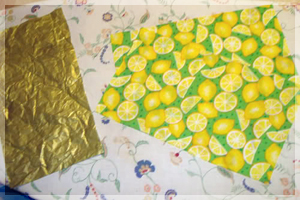 Also cut out some interfacing slightly smaller than the fabric cause you don't wanna sew over it, just makes things harder.

Iron on the interfacing to one of your fabrics (doesn't matter which one, I haven't found that it makes any difference).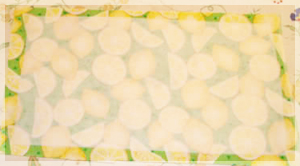 Now, put the two pieces together, right sides facing each other, and sew around the whole rectangle. The trick is to start sewing in the MIDDLE of one of the short ends, like so: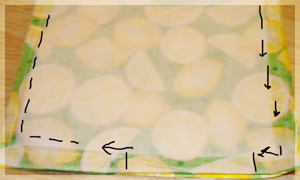 Then bring it back around and stop where the lines are. Trust me, this is a really good trick.

Now cut off the corners, it's not vital, but is an old trick of my mom's and I just do it anyhow.

Now turn the thing right side out.. it LOOKS scary here, but not for long.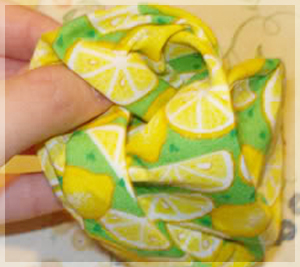 Use a pen/chopstick/whatever is handy to poke out the corners so its nice and sharp.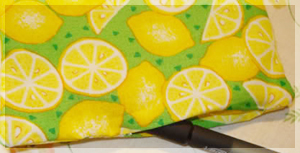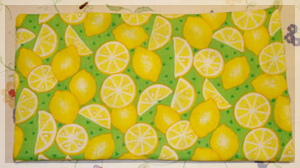 Now remember that hole we left?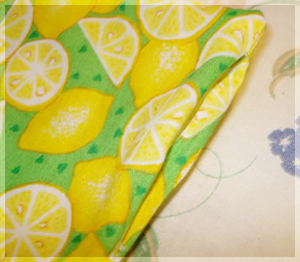 It tucks in nice and neatly, and you now iron over the whole thing which creases the hole and makes it look perfect!! (What a cool trick..only took me like.. a year to figure it out!)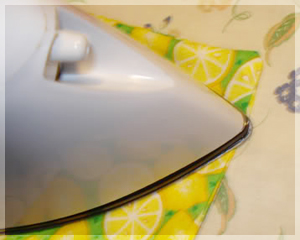 Now sew across that seam with the hole.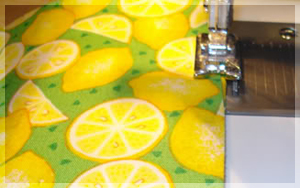 Now's a good time to attach your label if you have one.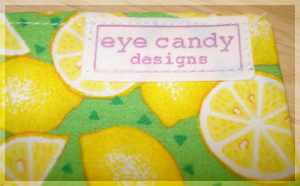 Fold it like so. You want to fold it in about 3 inches. This will be where you stash all your moolah, so if you're broke like me then it doesnt't need to be that big.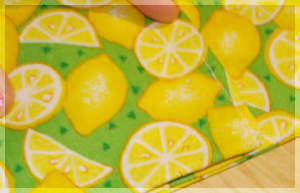 Start sewing at the bottom of one of the folded ends.. like so.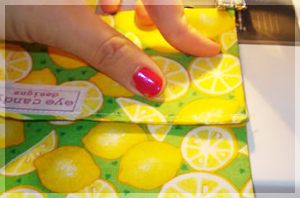 When you get to the crease, I like to put the pressor foot in reverse and sew over that part a few times to make it stronger.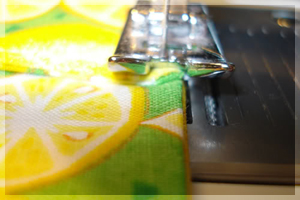 You'll be sewing in a U shape.. only picking up and turning your wallet at the corners, but never actually stopping sewing. Continue to sew all the way around the 3 sides.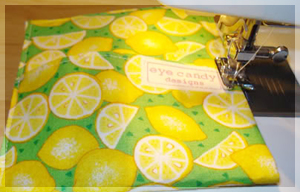 Now you can attach your snap. You're done!!! Now you better drop everything you're doing cause once you make one of these babies, you'll wanna make a million!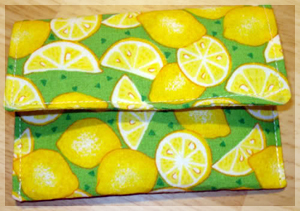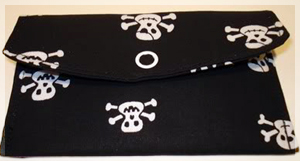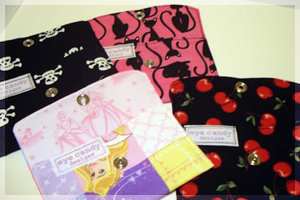 Tutorial below provided by BettyAnn
I have been trying to figure out a great simple wallet that would hold money/coins AND credit cards and all those little bits of paper, but yet not be much bigger than a credit card itself.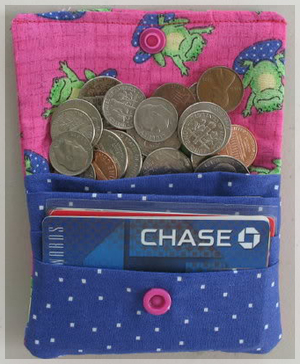 My representation of the pattern. Keep in mind this is not to scale, but the dimensions are correct.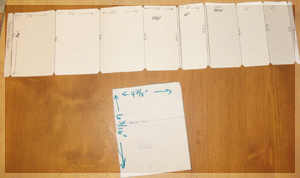 Cut out your pieces (you will see I already attached the interfacing to one wallet body piece).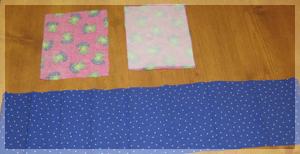 Iron all the folds into the long piece and lay on top of the wallet piece that doesn't have interfacing. Line it up to bottom and sides nice and flush.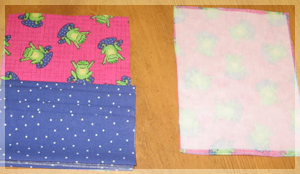 Place the interfaced wallet piece right side down on top of other 2 pieces. Line it up as straight as you can.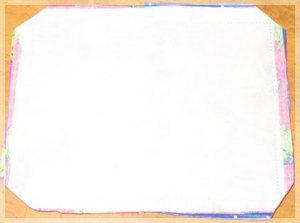 Sew all around it, leaving an unstitched area where you will flip the wallet inside out. Snap will go here.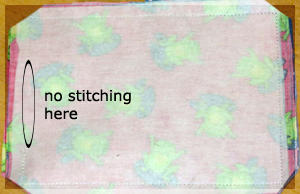 All turned right side out. I used a long iced tea spoon handle to get those corners as square as I could.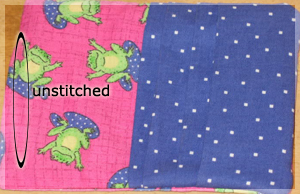 Top-stitch just the very top where the opening was. Tuck the seam in neatly before stitching.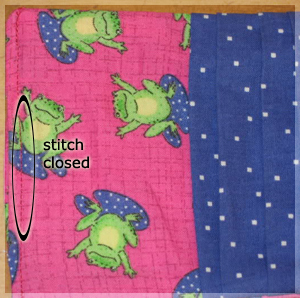 What color snap to use?? hmmmm . . . decisions, decisions!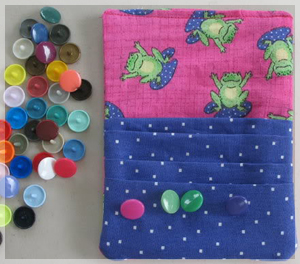 Attach stud/cap on front.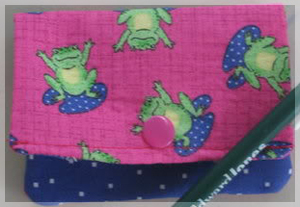 Fold down flap a wee bit over the last section (that's the loose coin area). Mark where socket/cap should go.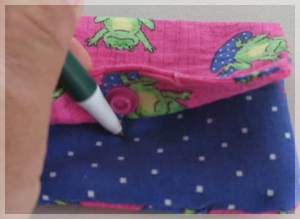 Socket/cap is now attached.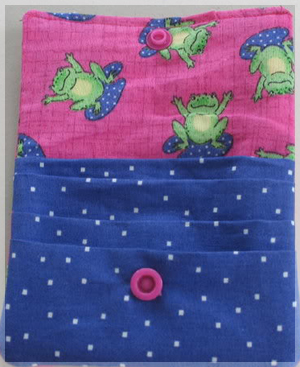 Load this thing up!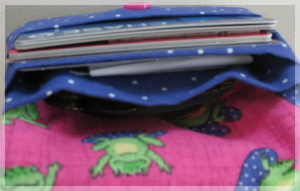 And it closes!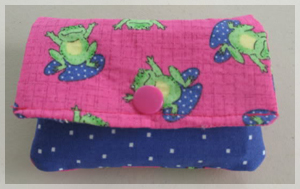 Sideway shot of it full and snapped shut.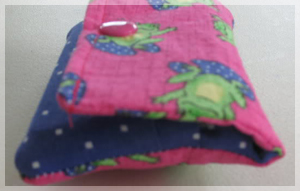 Tutorial below provided by Lara
Many of my totes don't have a pocket for a cell phone, so I came up with this idea for a cozy. You can hang the handle of the cozy on the handles of the tote which makes it easier to find the phone when it rings! I made this in just half an hour.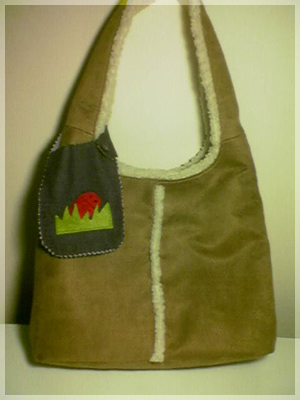 The fabric in the tutorial isn't felt. It's denim because I didn't have any felt left. I have also made these from foam and leatherette.

This is the template for the 2 pieces: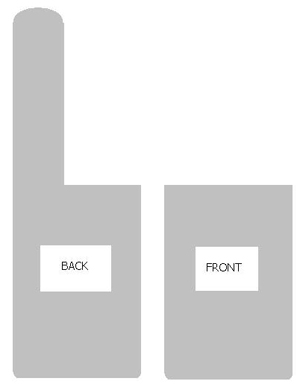 Cut your fabric according to the template. I used zigzag shears so the fabric won't fray and this way I didn't have to hem the edges.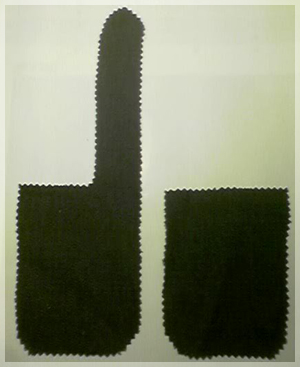 Embellish the front according to your taste. You can use beads, felt, sublime stitching, applique... here a few examples: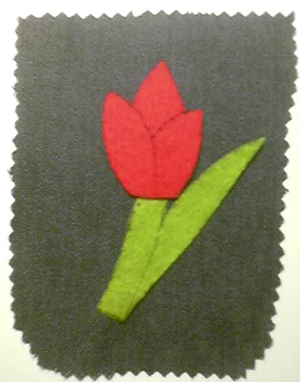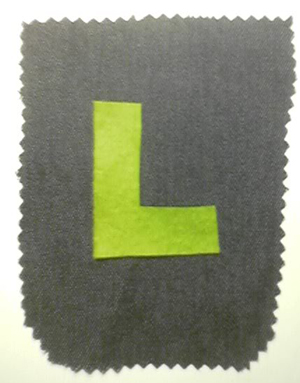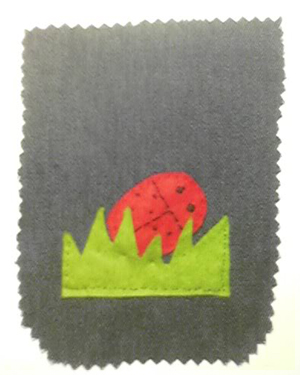 Place the front and back pieces on top of each other, wrong sides facing each other.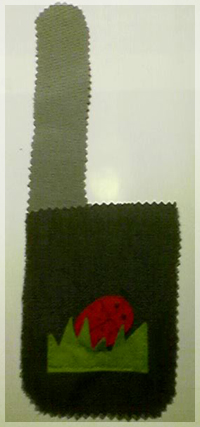 Stitch 3 sides leaving the top open. I used hand stitching but it would've been neater and faster with a machine.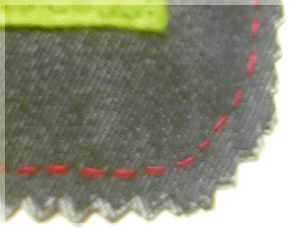 Attach a snap to the top of the handle from the right side of the fabric, and the other part of the snap to the top right corner of the body of the cozy. I used a snap in the green cosy and velcro on this one (the button is only decorative). Of course you can use a button or a ribbon as well.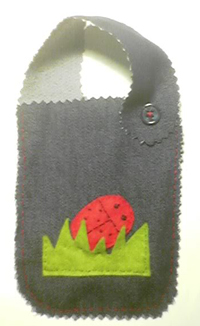 Another finished cozy.