Fabric Color Matching - Ooga Booga
These snap colors are what we believe come closest to matching the Ooga Booga prints. We have rated each color on a scale of 1-3 to denote how closely each snap color matches the prints. Please note that these ratings are subjective and not everyone may agree.
1 - very close match
2 - close match
3 - ok match, closest match based on what we have available
Some colors are also available with Ooga Booga engraving.
Blue Print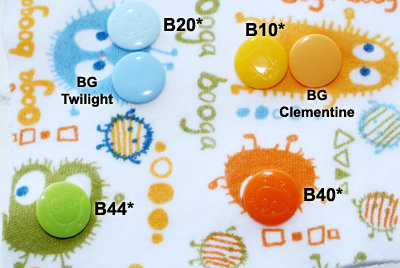 BG Twilight - #2 snap has a slightly less grayish undertone, but is a closer match than B20

B20 Pastel Blue - #3 snap is considerably paler than print

B10 Sunset Yellow - #2 snap has more yellow than print

BG Clementine - #2 snap has a bit more creaminess than print

B44 Apple Green - #3 snap is lighter and has less of a brown undertone

B40* Pumpkin - #1 snap has slightly less of a brown undertone than print
Brown Print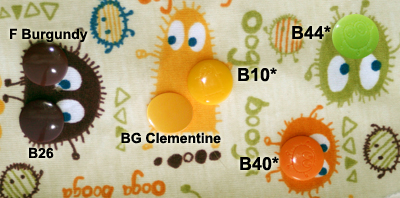 F Burgundy - #1

B26 Brown - #1

B10 Sunset Yellow - #2 snap has more yellow than print

BG Clementine - #2 snap has a bit more creaminess than print

B44 Apple Green - #3 snap is lighter and has less of a brown undertone

B40 Pumpkin - #1 snap has slightly less of a brown undertone than print
Camo Print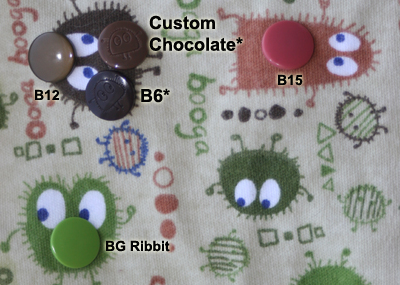 Custom Chocolate - #2 snap is a bit lighter

B6 Dark Brown - #1 snap is a bit darker

B12 Bronze - #2 snap is more golden

B15 Rusty Brown - #3 snap has more of a red tone

BG Ribbit - #2 snap is lighter
Christmas Print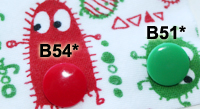 B54 Crimson - #1 close match but snap is a bit lighter

B51 Green - #1 close match but snap is a bit lighter than print
Lime Print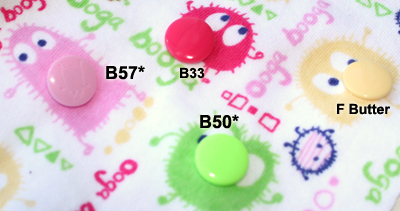 B57 Medium Pink - #1 snap is slightly lighter

B33 Hot Pink - #1

F Butter - #1

B50 Lime - #1
Purple Print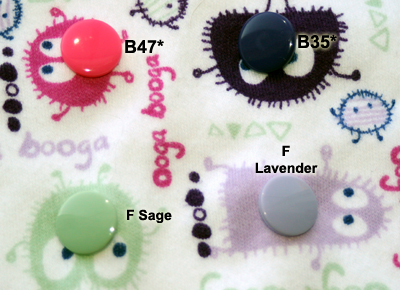 B47 Neon Pink - #2 print is a deeper, darker pink

B35 Purple - #2 print is a deeper purple than snap

F Sage - #1

F Lavender - #2 print is a paler purple
Red Print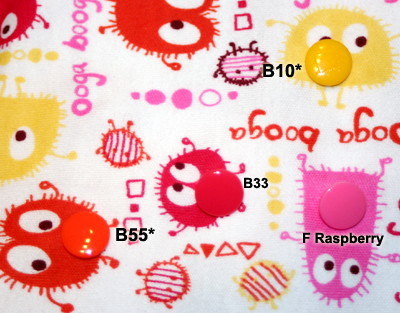 B10 Sunset Yellow - #2 print is lighter than snaps

B55 Dark Orange - #2 print is darker

B33 Hot Pink - #2 print is darker

F Raspberry - #1 print is slightly darker
Turquoise Print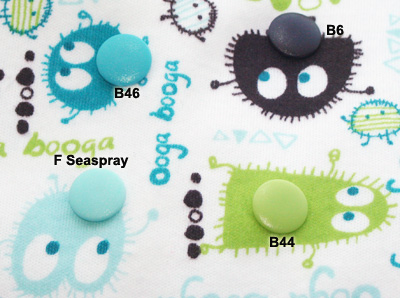 B46 Teal - #2 print is darker than snaps

B6 Dark Brown - #1 print is slightly lighter

F Seaspray - #1 print is lighter

B44 - #1 print is slightly darker
Turquoise on Aqua Print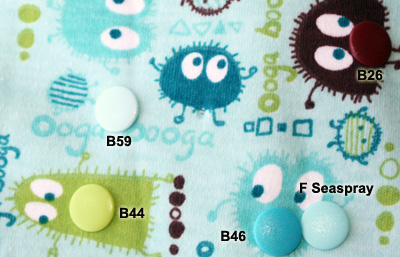 B59 Pool Blue - #2 fabric background is darker than snap

B26 Rusty Brown - #2

B44 - #2

B46 - #1 print is slightly lighter than snap

F Seaspray - #2