101+ Snap Uses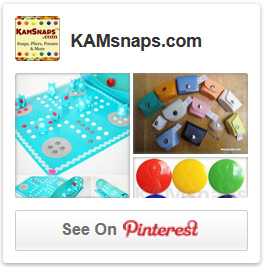 Here are some projects utilizing KAM snaps. Updated regularly so check back often! Also follow us on Pinterest!
Have a creative use of your own? Feel free to email pics to us or post them on our
Facebook page
.
Removable Candy from Gumball Machine for Quiet Book
(courtesy of Amy F)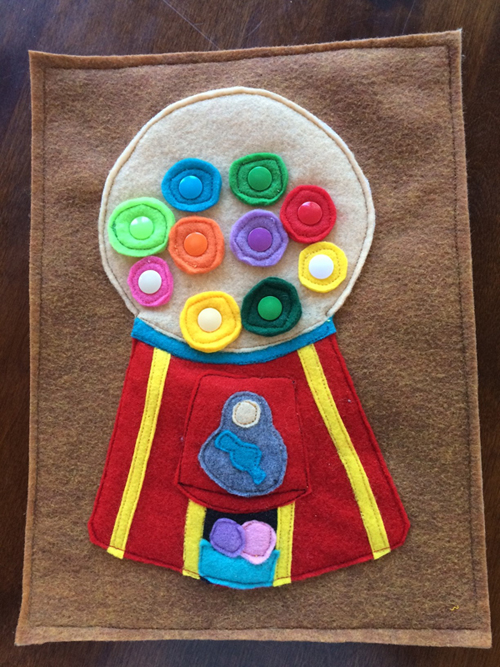 Earbud Case
In the hoop tutorial here.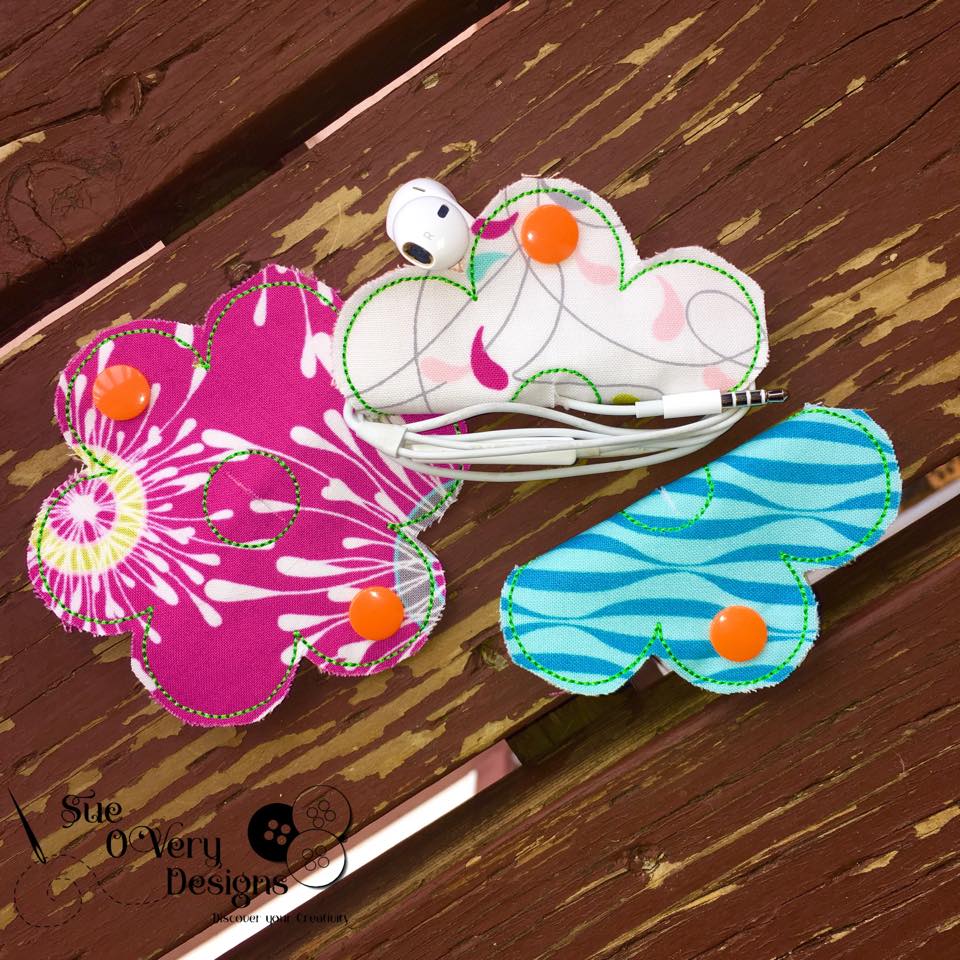 Turn Empty Milk / Juice / Soup Cartons into Wallets
Tutorial here.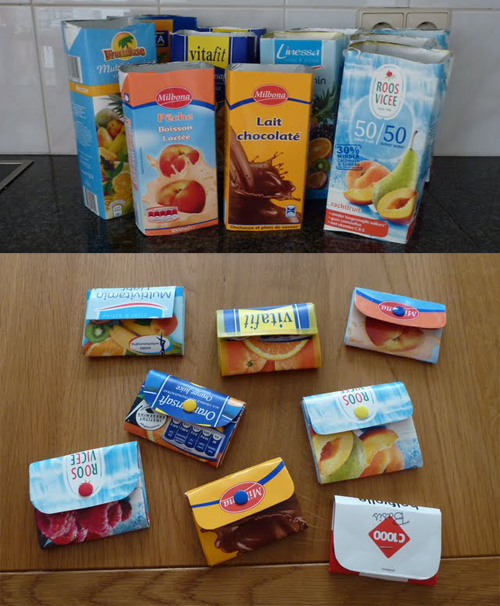 No-Sew! Snaps Used As Rivets to Attach Elastic to Shoes that are Too Loose or to Replace Worn-Out Velcro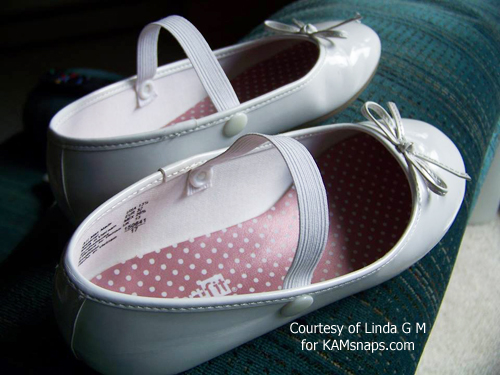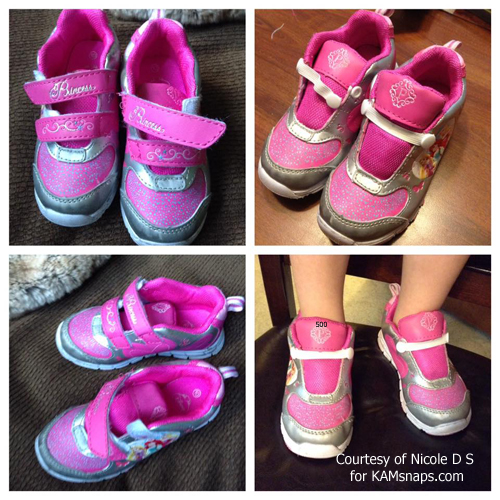 Dog Leash & Collar 2-in1 System by All Ready Leash
Removable Clothes in a Quiet Book
Waterproof Tote Bag with Snap Closures
Tutorial here.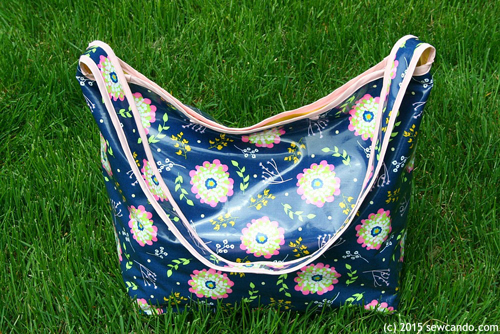 Banner
A banner made of camper cutouts attached to each other with snaps. Great for celebrations and holidays, with cutouts such as Christmas trees, snowflakes, flowers, birthday cakes, and anything else you can think of! Embroidered banner designs available at Valley of Embroidery.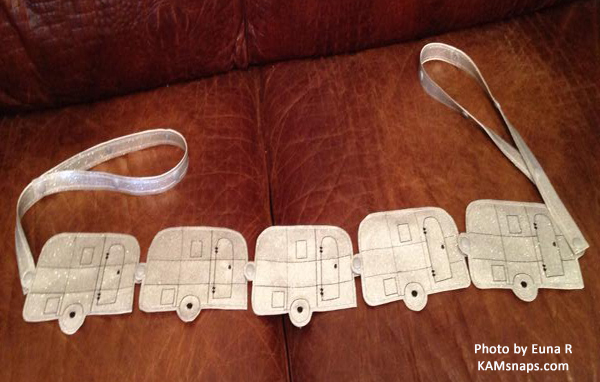 Busy Mat with Closures
Help your child fine-tune her motor skills while also keeping her busy with a simple busy mat of various types of closures, such as buttons, zippers, velcro, buckles, lacing, and of course snaps. Can be done in the form of a mat, blanket, or book.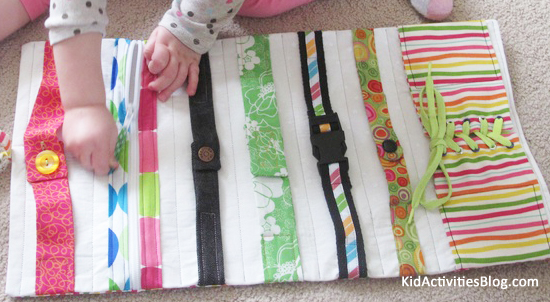 Hand Sanitizer Pouch Straps
Strap them to your purse, belt loop, wrist, or anything else you can think of to always have them handy and on the go. Tutorial here.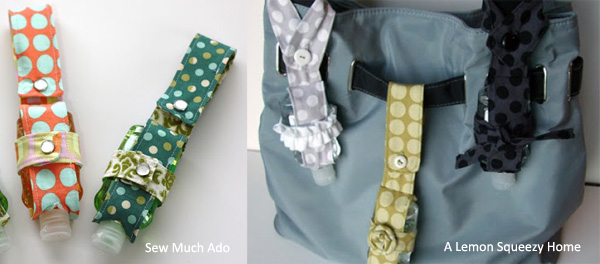 Shampoo Bottle Purses
Reduce your ecological footprint! Cut a shampoo bottle, add a snap, and voila, you have a discreet little case for toiletries, loose change, or other knick knacks. Tutorial here.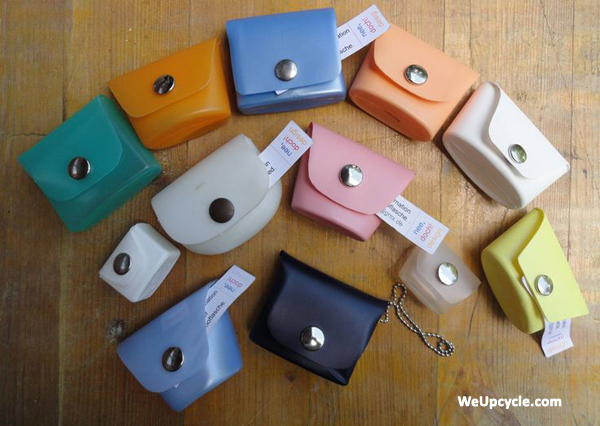 Travel Board Game
With just a few basic materials, you can make a travel, easy-to-store version of your favorite board game. Tutorial here.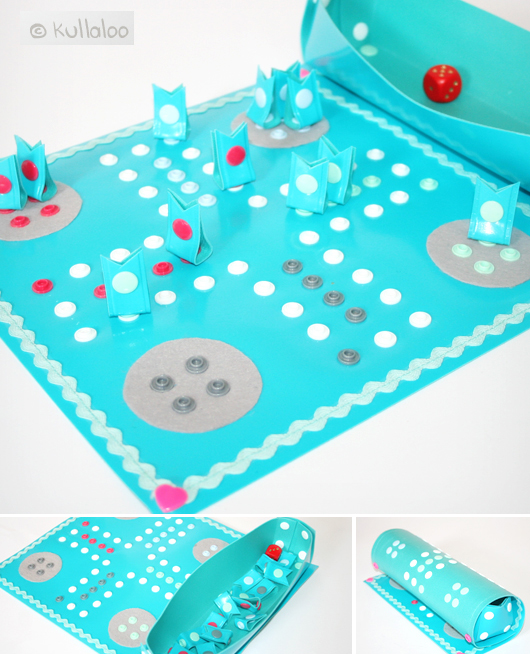 Mounting Pliers
This isn't a use for snaps specifically, but it's a great idea. This was built by a user who has tendonitis. Just to give you an idea of a way to "improve" the pliers if you can't afford or don't want to invest in a table-top press.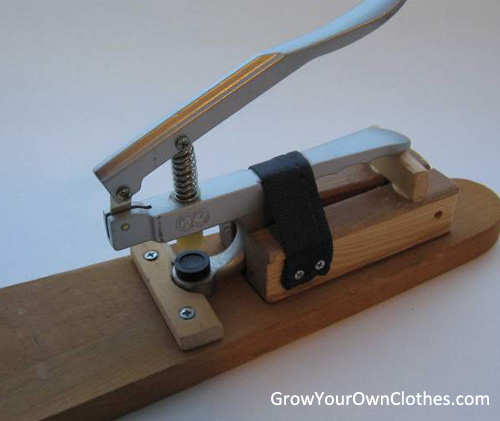 Snapable Flowers for Quietbook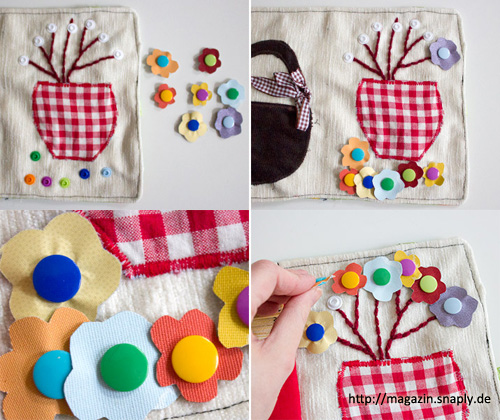 Convertible Sleeping Bag
A blanket that turns into a sleeping bag. Tutorial here.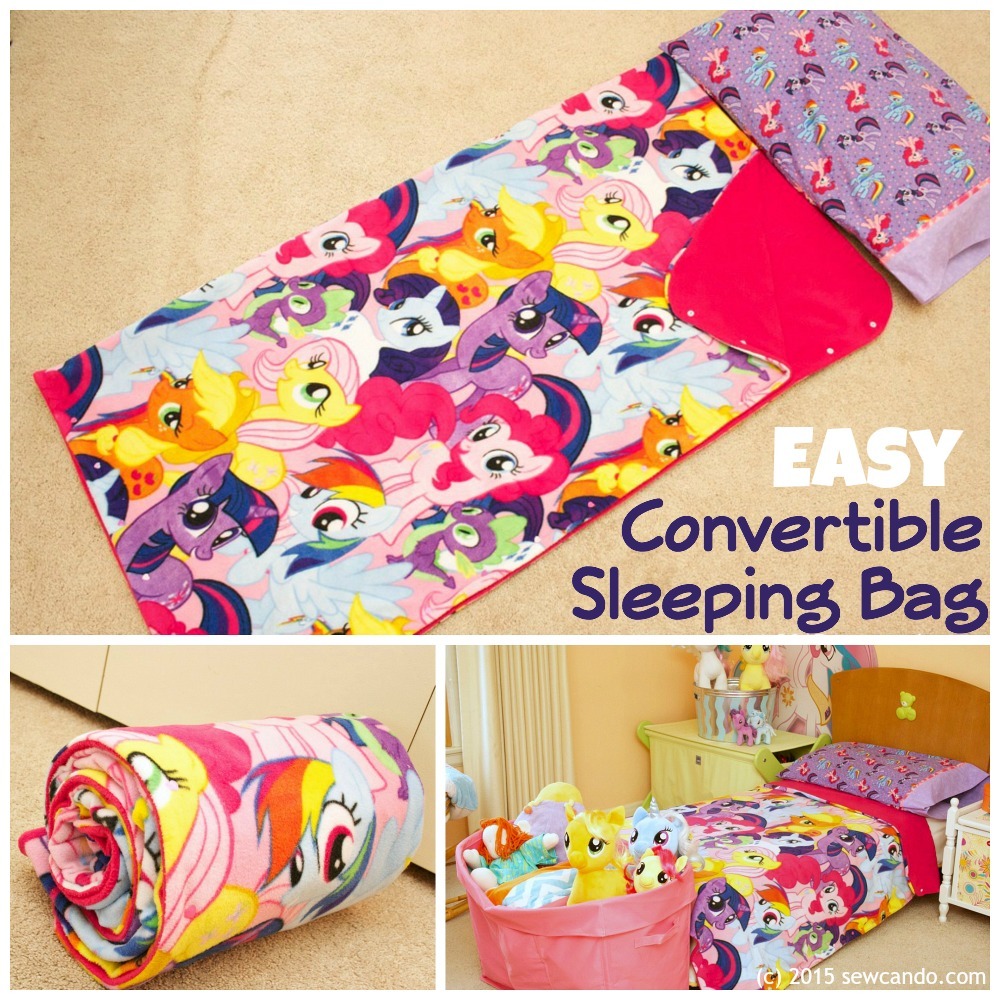 Feeding Pump Bag
Double-sided snaps are used to attach the feeding pump bag to the insulated pump bag.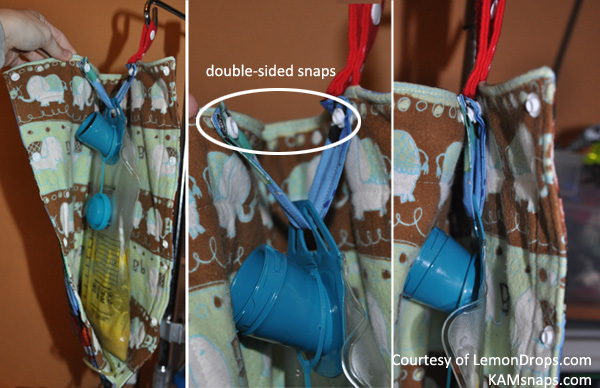 Crossover Tabs on Cloth Diaper
Double-sided snaps are used for the crossover tabs.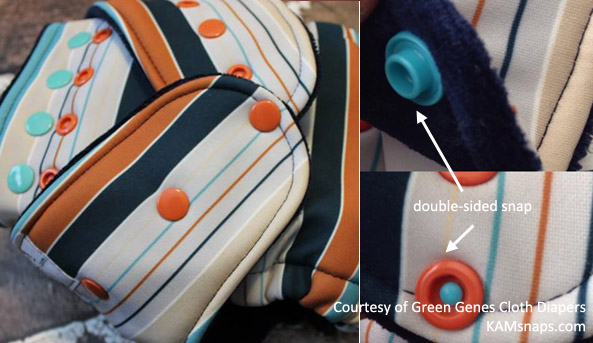 Attach Wipe Bag to Wet Bag Handle
A double-sided snap on the pink wipe bag allows the bag to be attached to the handle of the larger wet bag. One less thing in your hand when you're rushing baby to the bathroom for a diaper change.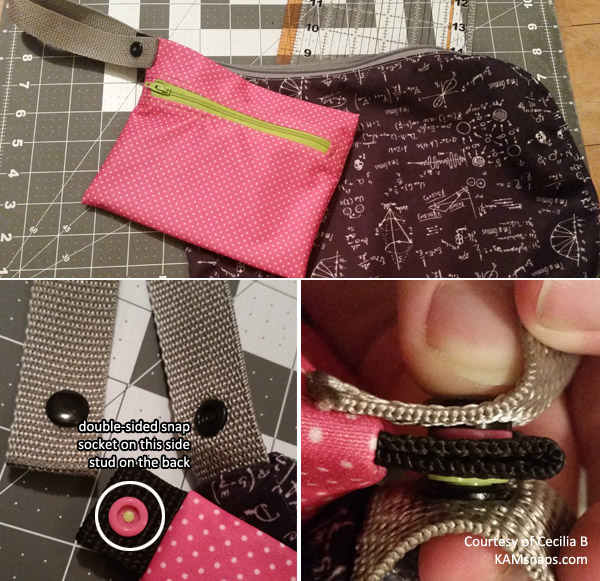 Attach Custom Hoodie to Kinderpack Carrier
Double-sided snaps are used on the strap of this custom hoodie so that it can fasten to both sides of the hoodie pocket on carrier.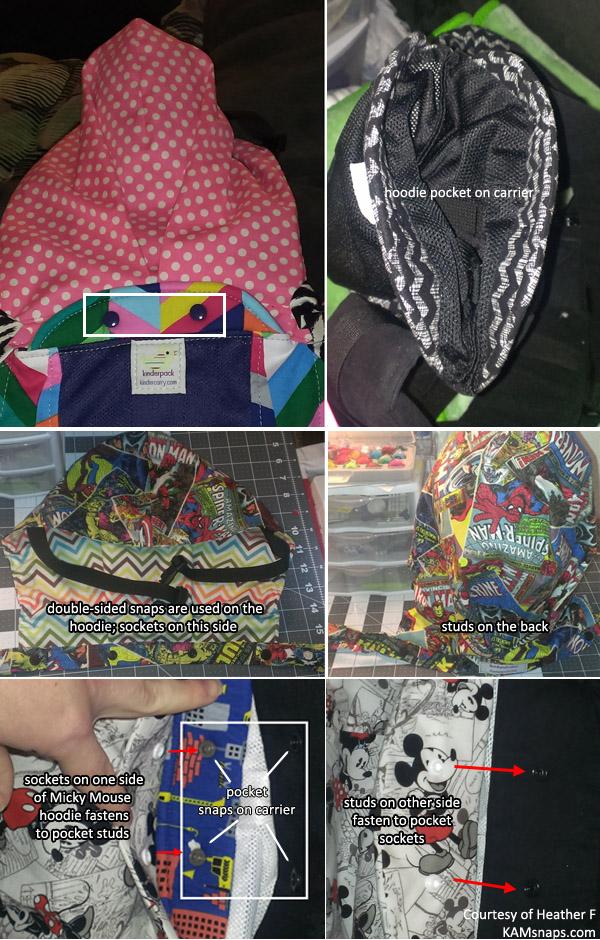 Fabric Sampler Book
Layers of fabric are attached to each other with double-sided snaps to create a sampler book.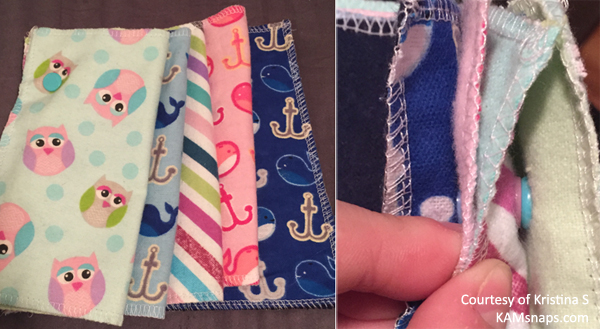 Layered Diaper Inserts
A double-sided snap allows inserts to be layered on top of each other for extra absorbancy when needed, then unsnapped for easy washing and drying.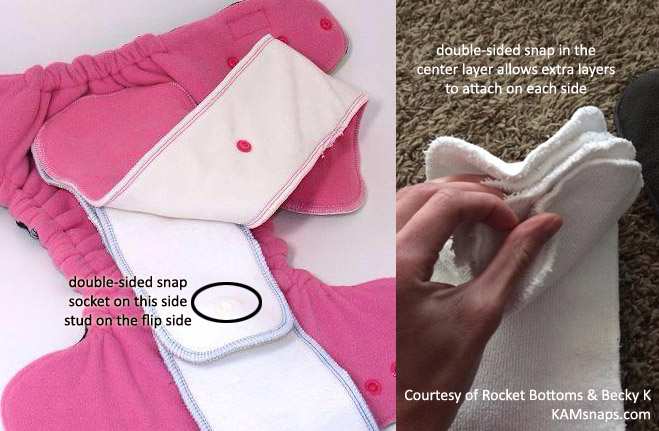 Snappin' Apples in a Quiet Book
"A" is for apples. These apples snap on and off. Pattern and tutorial at hillsidemomma.com.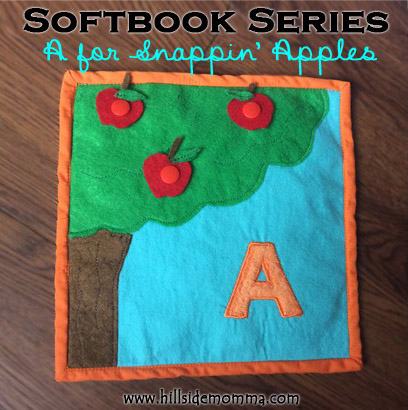 Interactive Clock
A double-sided snap was used for the bottom hand of the clock. The bottom hand is able to fasten to both the clock as well as the top hand.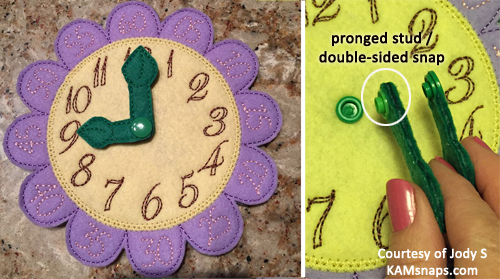 Stuffed Animal Hanging Organizer
Place one side of a snap on a long strip of ribbon, and the other side of the snap on the stuffed animal (an ear or tail usually work well). Snap the 2 parts together and eventually you'll get an organized hanging chain of stuffed animals.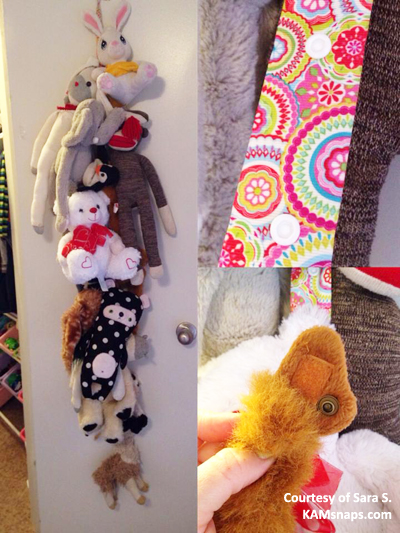 Decorative Tentacle
Snaps provide the decorative details on the tentacles of this Ursula handbag.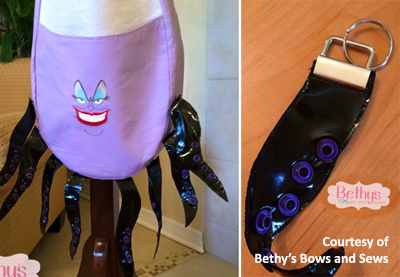 Bird Collar
Elizabethan-style soft collar to help prevent your bird from plucking her feathers.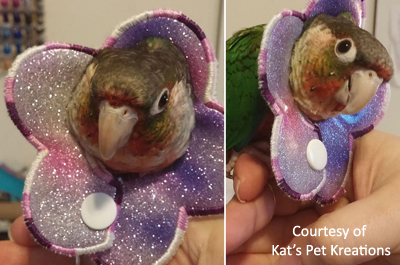 Lullaby Baby Blanket
The stuffed animal head attaches to the blanket with a snap. In-the-hoop instructions available here.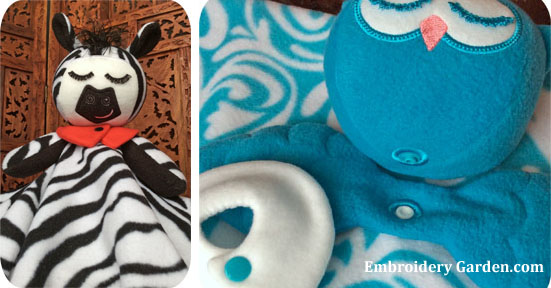 Sleep Wings PillowTM
The recliner pillow that helps to stabilize your head and neck.

SnugSnap®
Self-adhesive, press-on snaps that are applied to the top and bottom of babies' and children's two-piece outfits to prevent the top from riding up.

Shorten Sleeves
Sleeves too long on your baby's onesies? Shorten them by adding snaps. In the photo below, there's a stud installed at the shoulder and then a couple of sockets down the sleeves.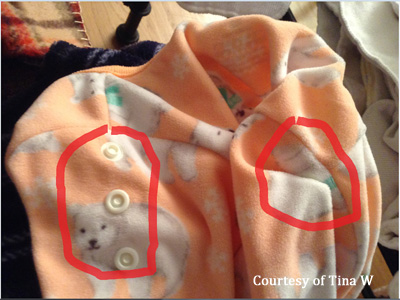 Alternative to Buttons
Have an old sweater with missing buttons? Replace them with snaps! A fun decorative embellishment that also allows for easy opening and closing.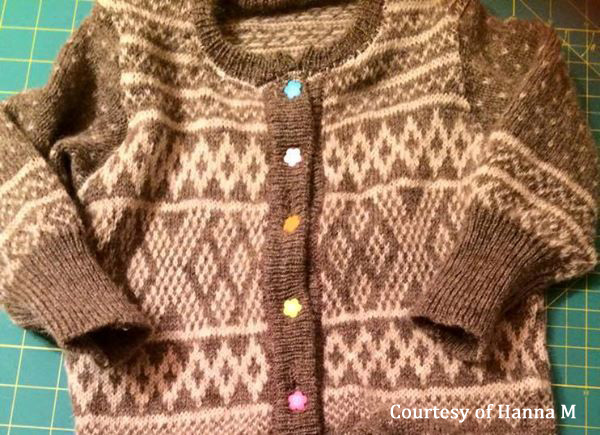 Removable Decorative Bow
Bow snaps off for safe washing.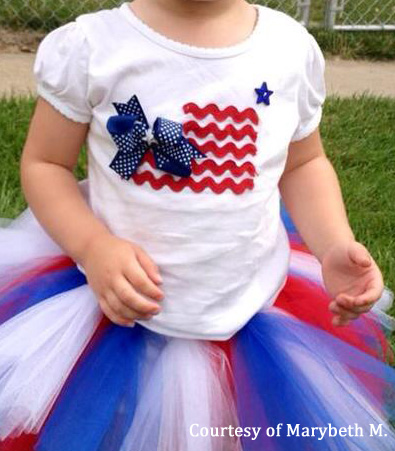 Christmas Tree Skirt Fastener
Put snaps along the open edge so your child can't remove the skirt.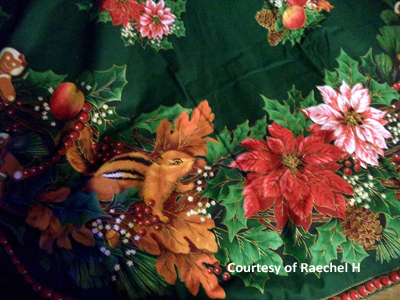 Countdown to Santa Chain
Embrace your child's excitement for special events with these countdown chains. Pattern is available from Dejah Vue Designs and includes variations like How Many Days until My Birthday or How Many Days Until Daddy is Home? Free tutorial.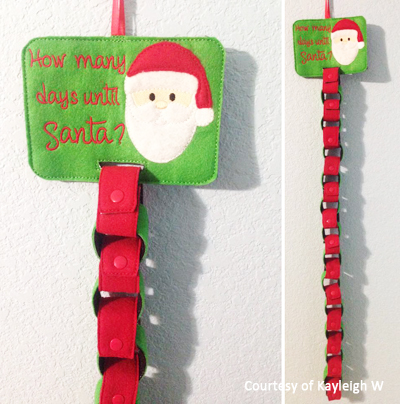 Tear-Away Pants
Convert regular athletic pants into tear-away pants by removing the stitching along the sides, folding and sewing the side edge, then adding snaps.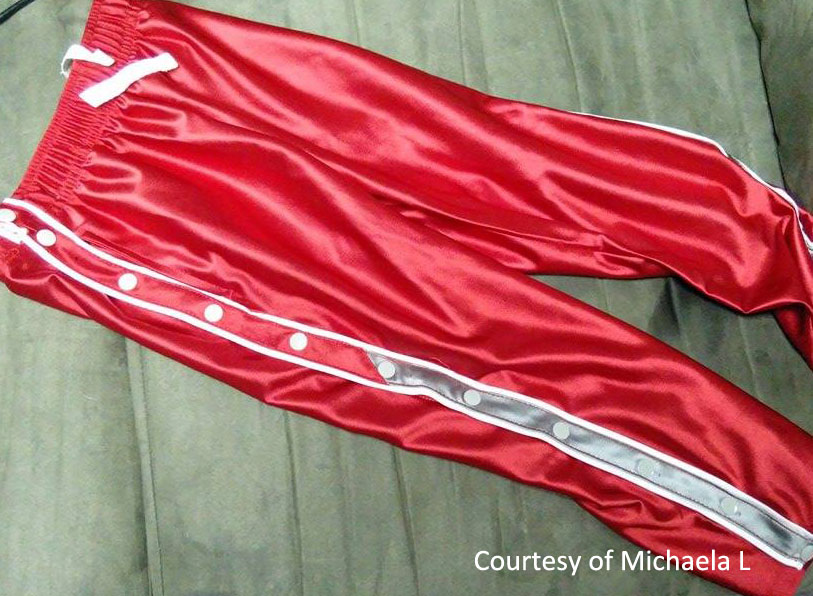 Wire Rack Cover
Snaps are used on the front cover for easy access to shelves.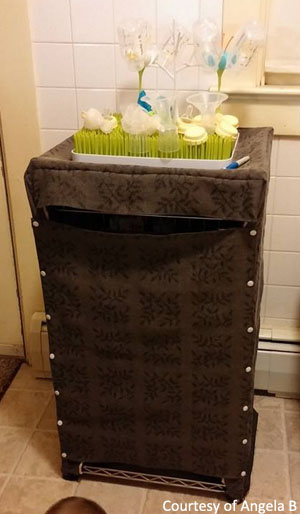 Wet & Dry Bag
A separate compartment for used and unused cloth menstrual pads or baby diapers. Tutorial here.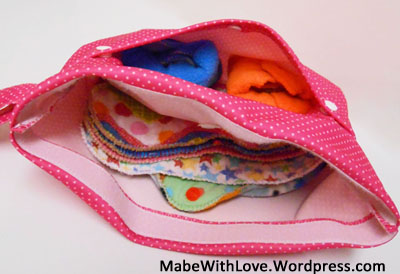 Alternative to Curtain Hooks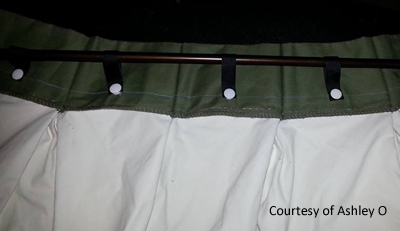 Snap-up Sleeping Bag
This snap-up sleeping bag also unsnaps to become a quilt. Tutorial here.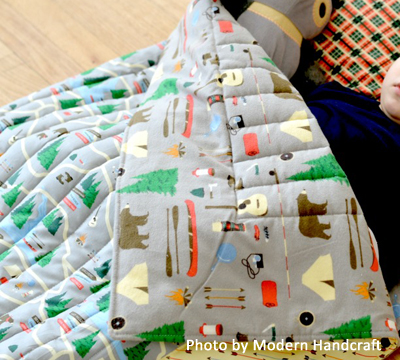 Apron Ties
No more fumbling with apron ties. Snaps make putting on and taking off aprons a breeze.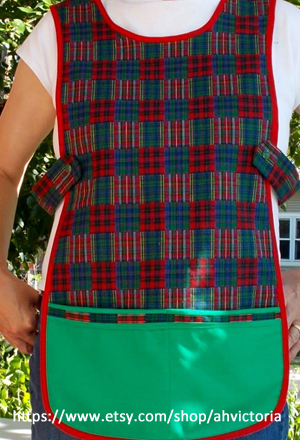 ID Tag Holders
Snaps on ID tag holders prevent the ID from slipping out.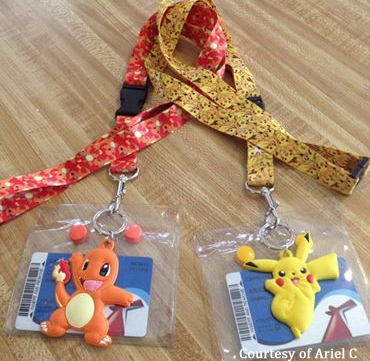 Interactive Clock
"Laminated clock with dry erase numbers to help children learn the clock and snap-on hands for learning to tell time."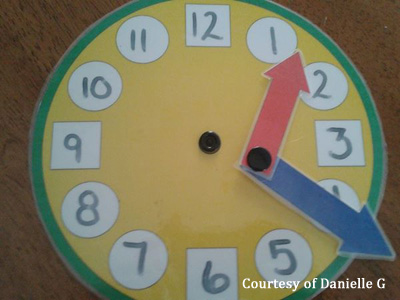 Seatbelt Buckle Stopper
Add a snap to your seatbelt, or replace the original stopper if it fell off, to prevent the seatbelt buckle from falling all the way to floor. This keeps it within reach to provide easy access.

Sandal Repair
Replace broken clasps on sandals with snaps. Faster to open & close that way too!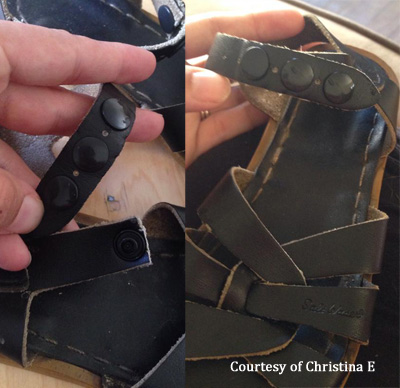 Quick Release Lanyard
Snaps added to a lanyard for safety release in case it gets caught in a paper shredder or somebody tries to grab it.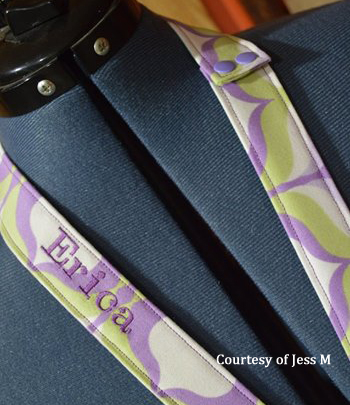 Shoe Pairings
Keep those shoes paired up by adding a snap.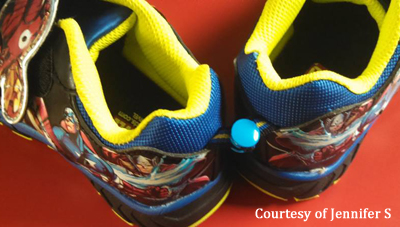 Skeleton
Pattern here.
The joints are connected by snaps. Great for Halloween but also a fun way to teach about the body.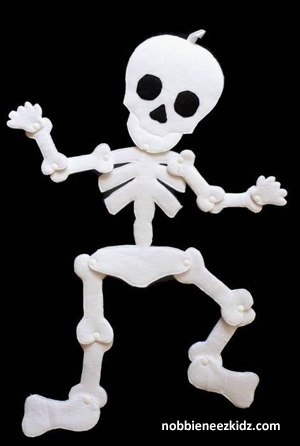 Quiet Books
Patterns and ideas here.
Pronged studs (to make double-sided snaps) were used at the binding to connect the pages in the first and second photos. This allows you to add, remove, and rearrange multiple pages.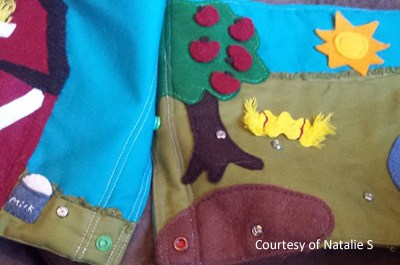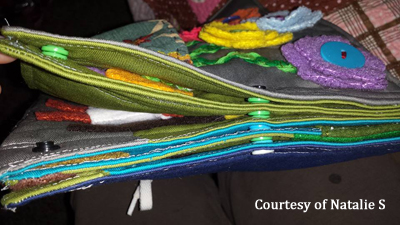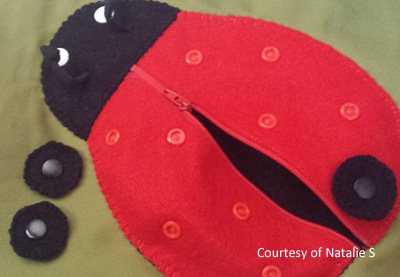 Snap-On and Off Hook & Loop Tabs
Tutorial here.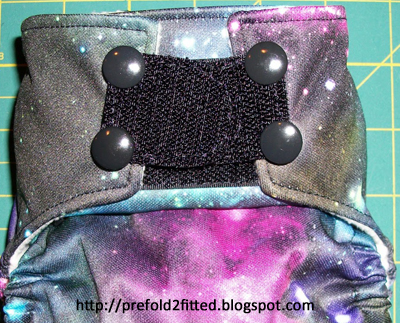 Album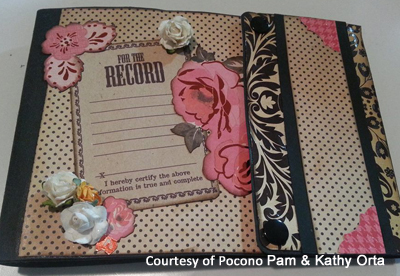 Alert Tags
These indicate your child has an allergy or requires special medical attention.


Wrist Lanyard
Tutorial here.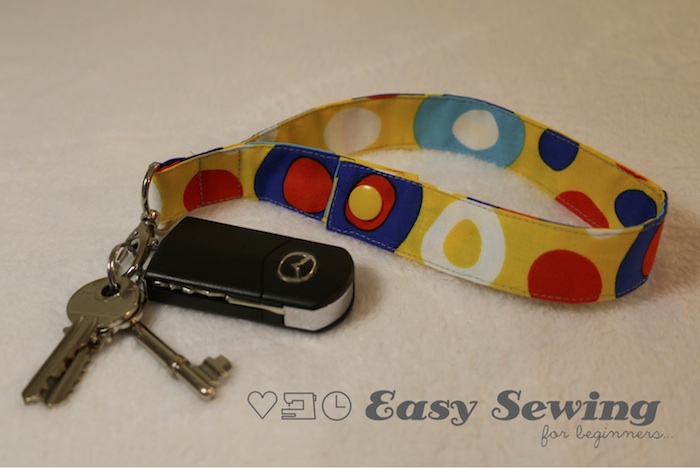 Bracelet with Interchangeable Flowers
Tutorial here.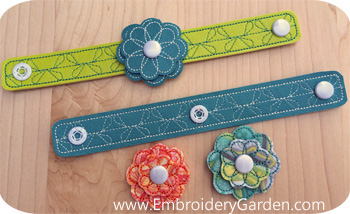 Anchor Your Comforter Inside Your Duvet Cover
Add snaps to the edges of your duvet cover to anchor the comforter inside so it doesn't slide around. Tutorial here.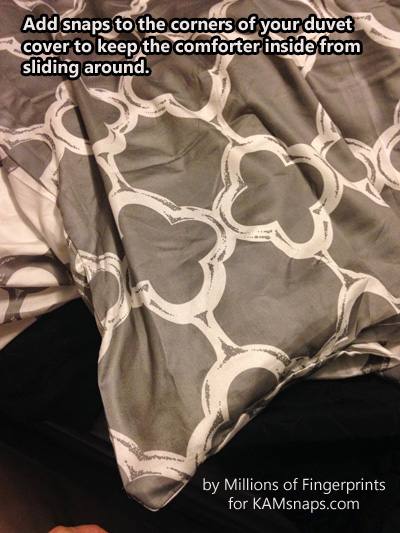 No-Sew Unpaper Towels & Bibs
Forget about sewing. Convert dishcloths into a roll of unpaper towels and bibs with just a few snaps.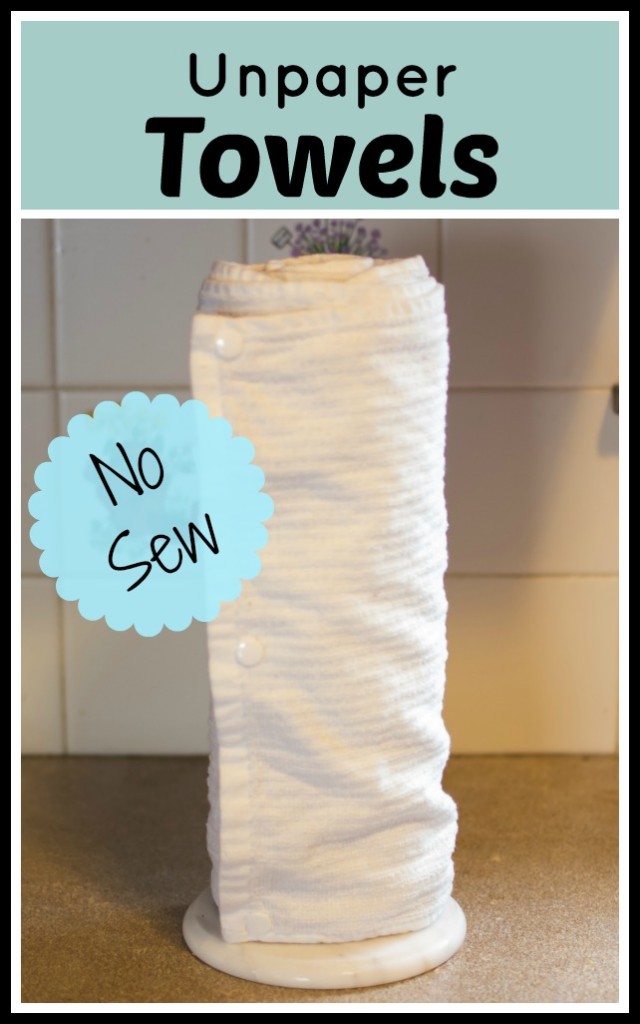 IV-Friendly Pajamas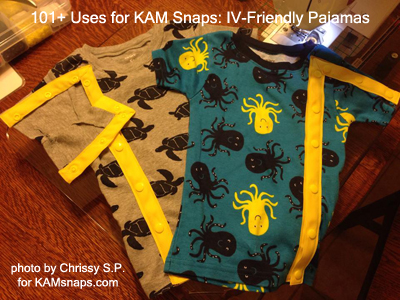 Sippy Cup Leash
Foil their evil sippy cup throwing plans by making a holder leash with ribbon and snaps.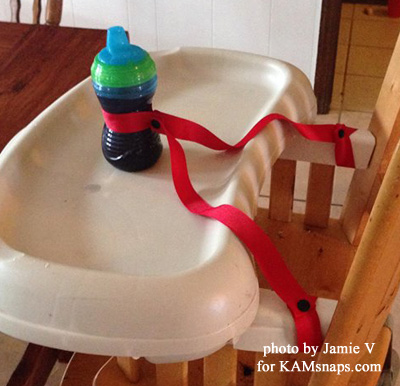 Turtle with Removable Shell
Turn a teddy bear into a ninja turtle with removable shell. Teddy pattern here.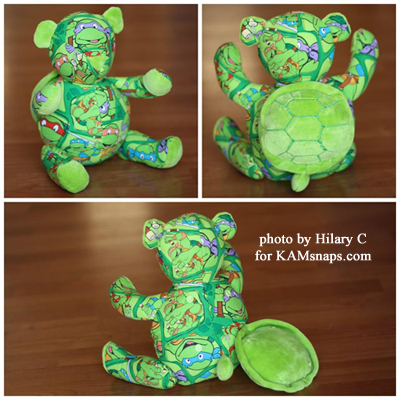 Strapless Nursing Bra
Tutorial by Do-It-Yourself Danielle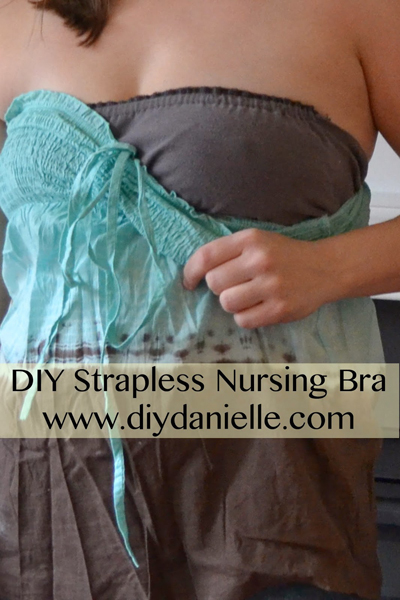 Interchangeable Curtain Tieback Holders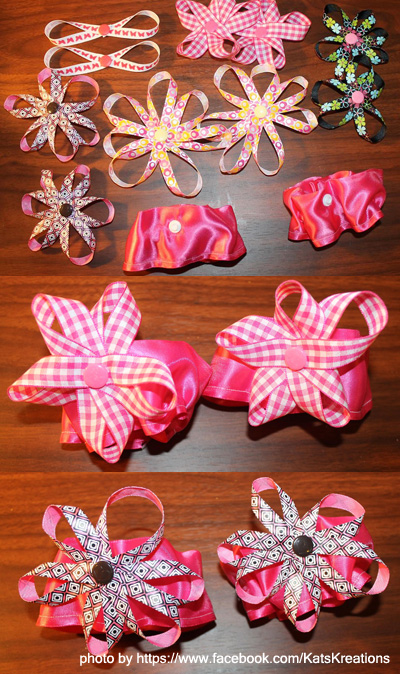 No-Sew Dog Sweater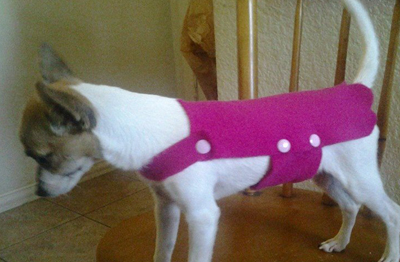 No-Sew Snap Wallet
This easy-to-make little wallet could be used for coins, candy, or any trinket. Pattern here.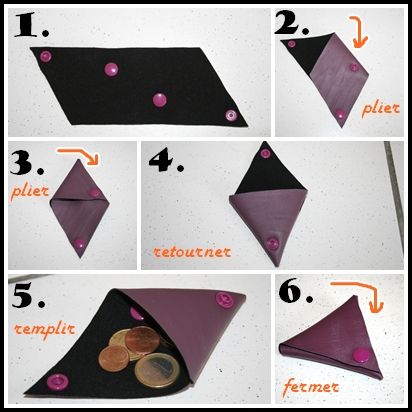 Removable Mermaid Tail for Cloth Diapers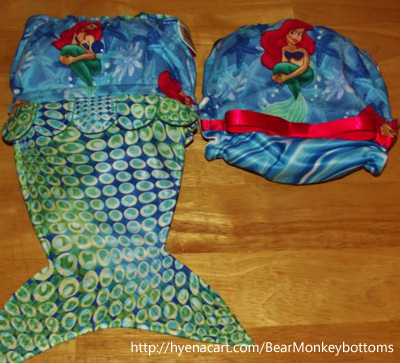 Adjustable Toddler Kilt - Attaches to Cloth Diaper
This adorable Scottish kilt has an adjustable waistband and snaps right onto your child's cloth diaper. Tutorial here.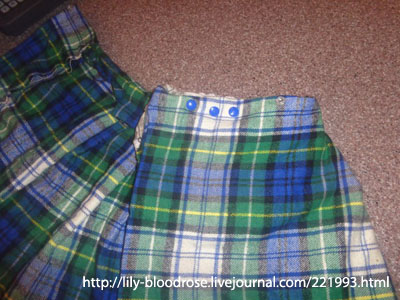 Mini-Diaper Key Chains
You can never have enough cloth diapers, no matter the size!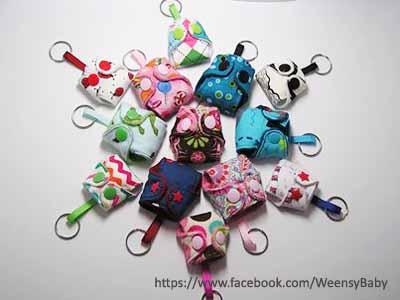 Waterproof Dog Boot
This boot was made from an old waterproof coat to protect this sweet little dog's cut paw.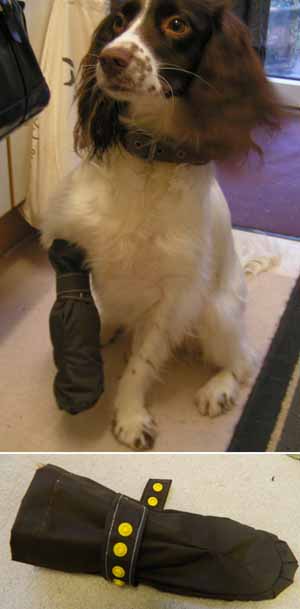 Doll Clothing
Because dolls need a wardrobe too!

Backpack Tag
Snaps installed to a Foodsaver pouch make a quick backpack tag.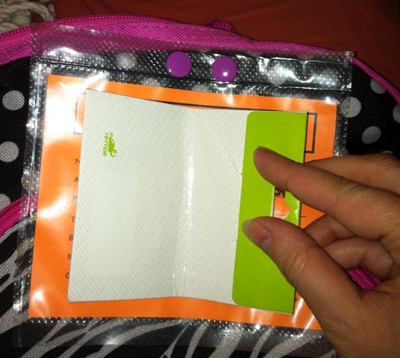 Geometry Sticks
Snaps were installed to tongue depressors to form instructional "triangle sticks" to illustrate the various types of triangles. The tongue depressors were approx 1.25mm thick and were used with size 16 6.2mm long caps.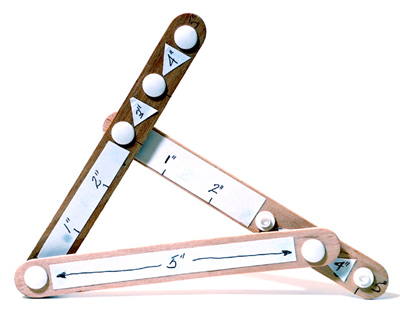 Boxer Shorts
Add a discreet closure to opening in boxer shorts.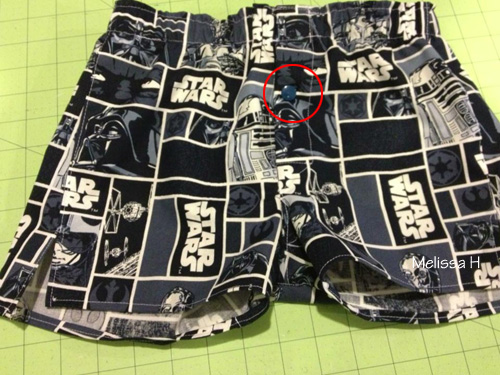 Pillow Wrap
Use snaps as the closure for personalized pillow wraps for easy changing and washing.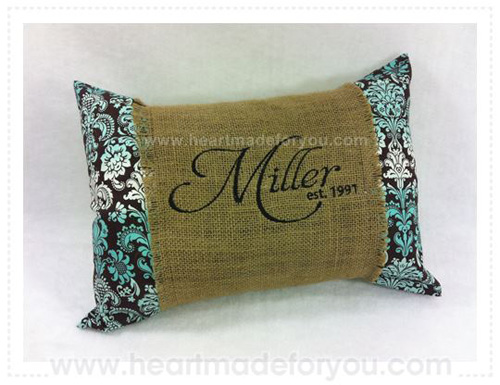 Storage Bin Labels
Install snaps on fabric storage bins to hold up signs telling you what's in each bin.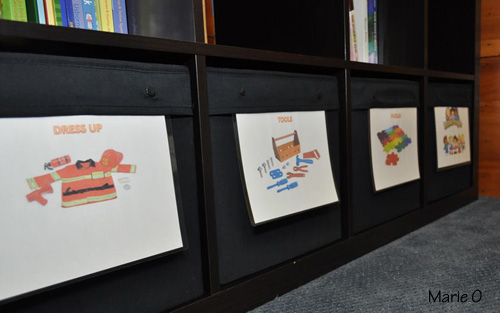 Diaper Snap Covers
Cover those unused sockets on diapers so you can quickly tell which snap to use.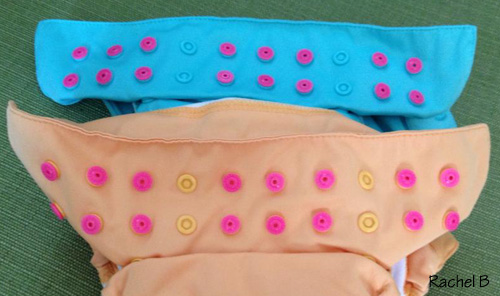 Swiffer Microfiber or Fleece Cover
Tutorial here. (Replace buttons with snaps.)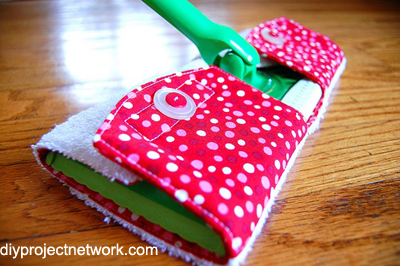 Tool Bag to Hold Your Pliers and Parts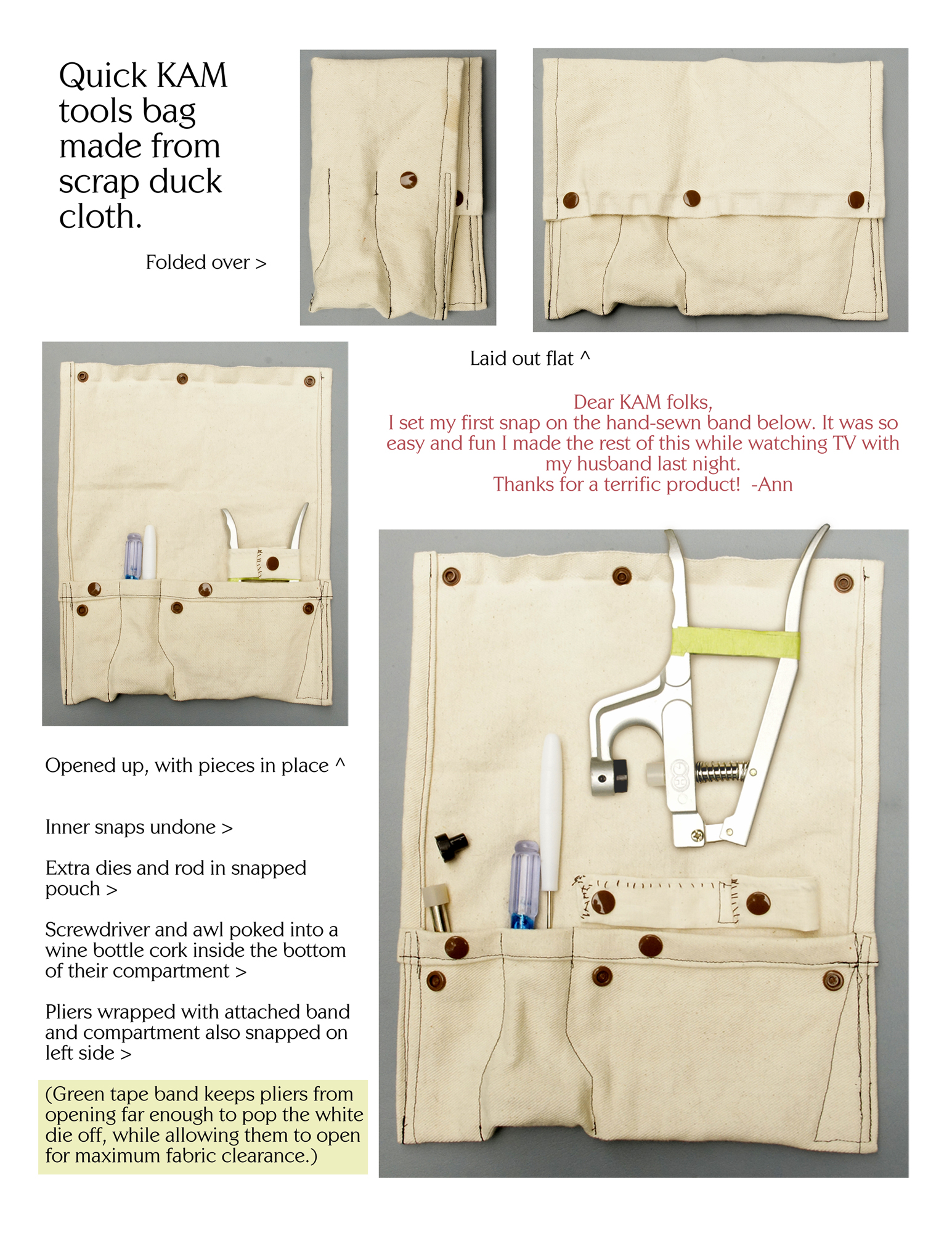 Interchangeable Arms and Legs on Stuffed Animals
Snaps make great joints on stuffed animals and allow children to add different arms and legs.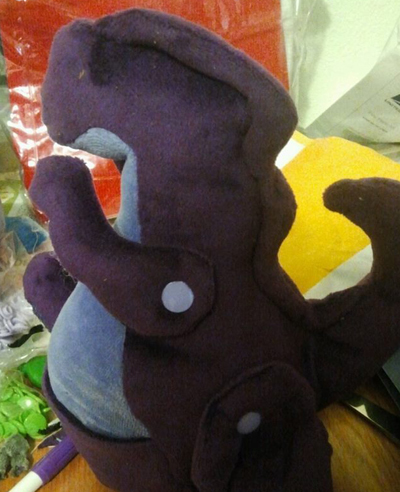 Reusable Sandwich/Snack Bag
Tutorial here.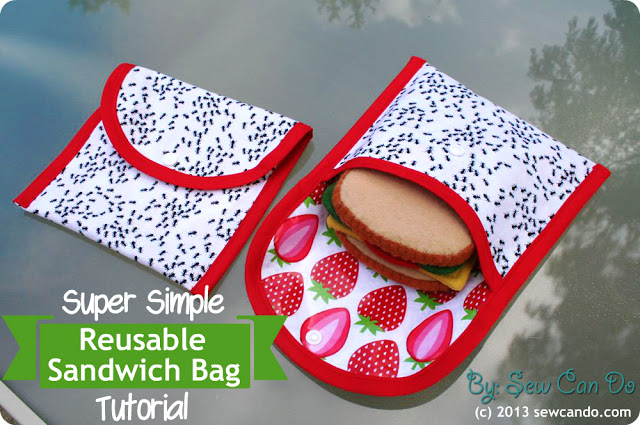 Adjustable Chef Hat
Pattern here.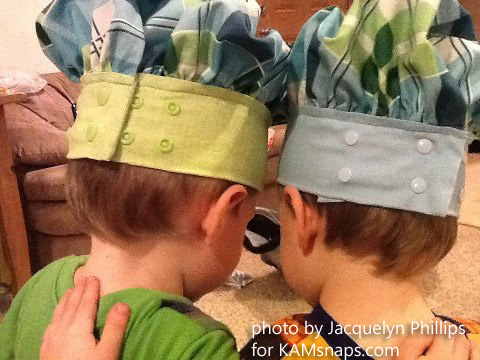 Webbing Straps
If the buckles on your straps have lost their tension, add snaps to hold the strap in place. Baby rear-view mirror shown.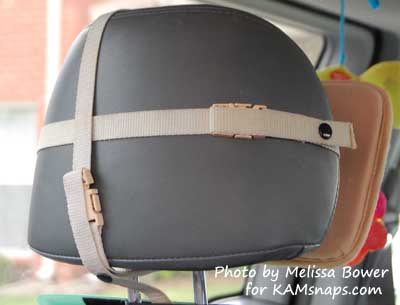 Alternative to Clothes Pins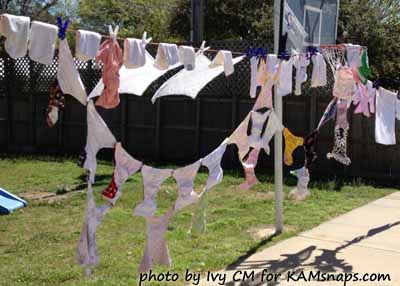 Repair a Dog Harness
Did your dog chew off his harness or leash? Install a snap to attach the 2 broken ends. Make sure to seal the ends with a lighter so they don't fray.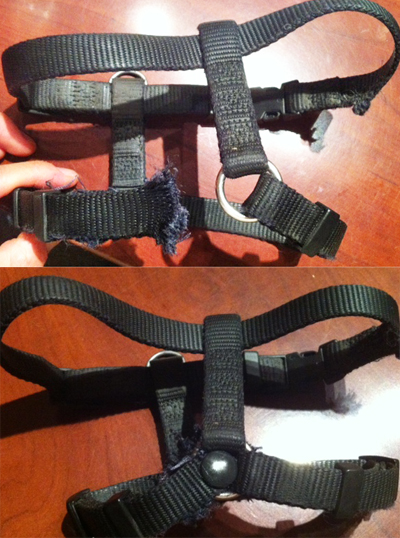 Pillow Cover
Revive those old, ugly pillows with a new cover.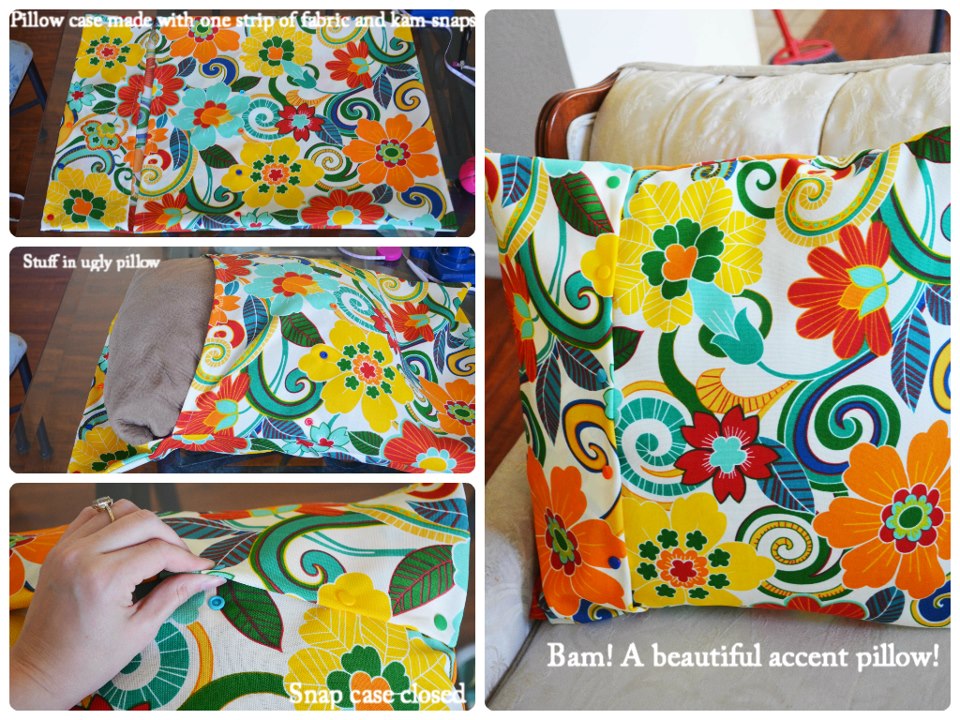 Removable T-shirt Sleeves
Add sleeves to a t-shirt that can be snapped on and off.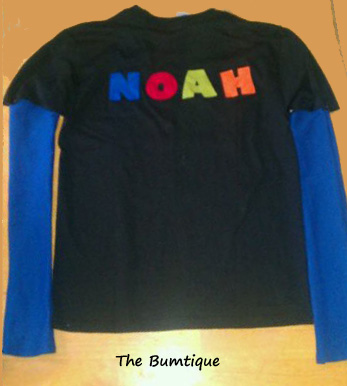 Backpack Child Harness
A piece of webbed strap keeps the backpack on, and a child wriststrap around the hook
of the backpack provides the tether.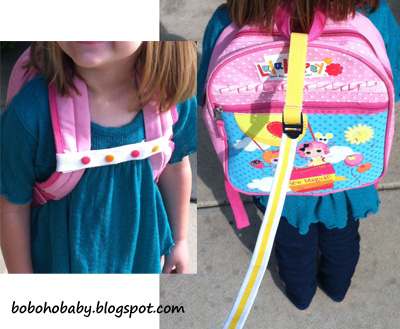 Little Man Ties
These ties have a double snap closure around the neck for safety and adjustability. The knot is sewn so they can't be undone, thereby eliminating the fuss of tying a tie.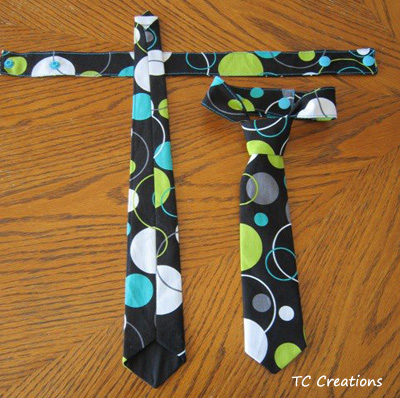 Convert a Regular Bra into a Nursing Bra
Tutorial by Take Time to Smell the Rose is available here.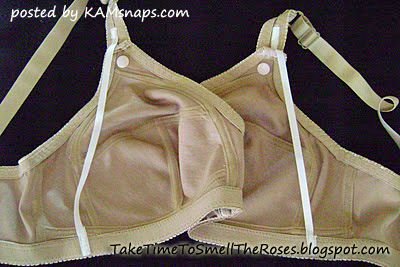 Add to a Broken Zipper
The zipper on these jeans are missing teeth in the middle so will not zip up all the way. Problem solved with the addition of a snap.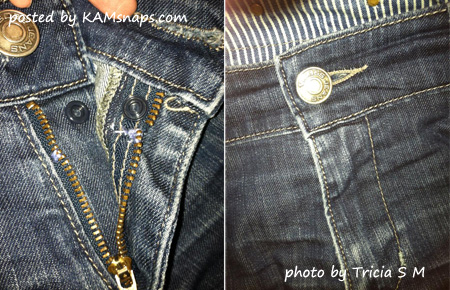 Towel Holder (Upcycled from an Apron)
Great to hang in the kitchen to collect unpaper towels & cloth napkins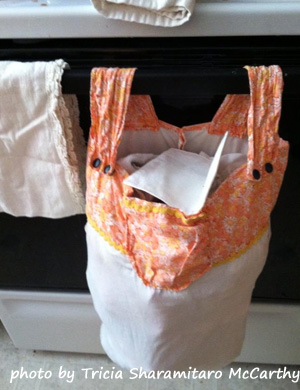 Bookcase with Dow Rods
Snaps were used along the edge of the hanging fabric to create pockets for books.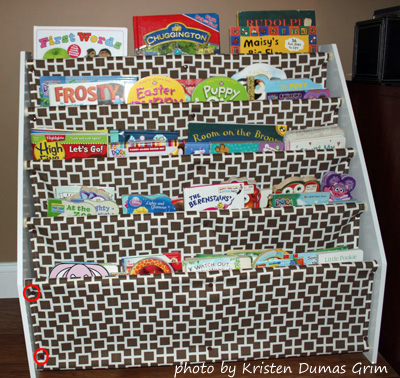 Coffee Cozy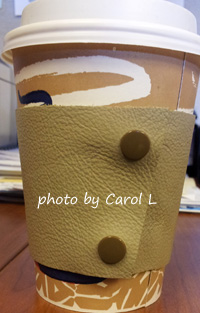 Baby Booties with Interchangeable Accessories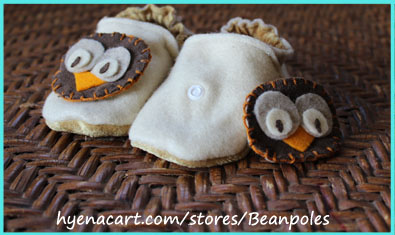 Adding Length to a Dress, Skirt, or Apron
KAM snaps can be used at the bottom of a dress, skirt, or apron (shown) to add length so that the piece of clothing can grow with the child.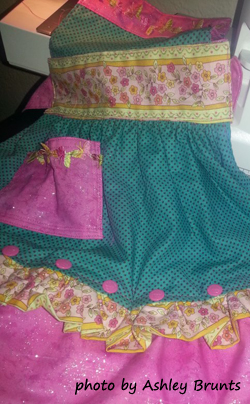 Apron
KAM snaps make the neck strap adjustable.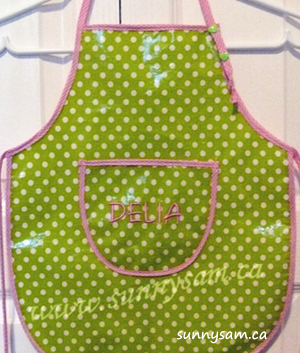 Spray Pal
KAM snaps are used on the Spray Pal, which help to contain poopy messes when you're spray cleaning dirty diapers.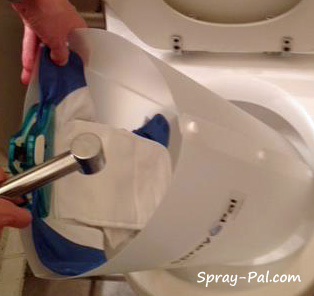 Closure & Adjustable Straps on Backpack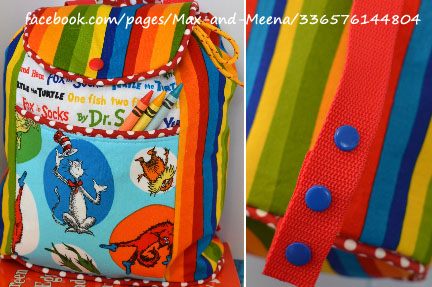 Fabric Take-Out Box
Tutorial at SewCanDo.com.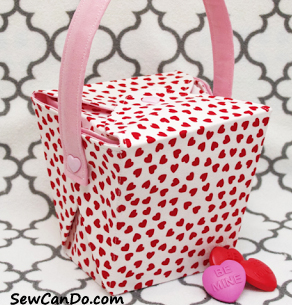 Tape Measure Holder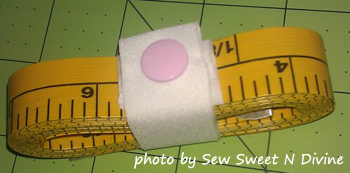 Velcro on Shoes
When the velcro on shoes no longer stick, add snaps to revitalize an otherwise perfectly good pair of shoes.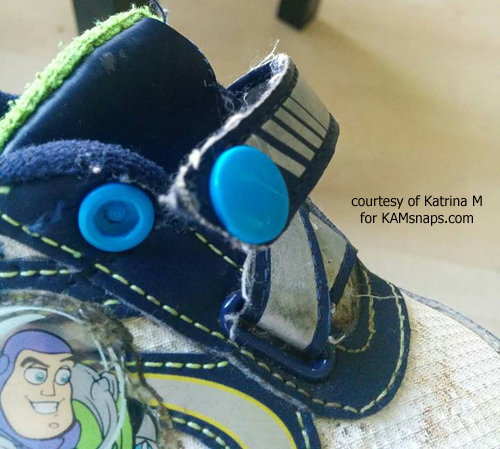 Chicken Saddle Apron
Saddle aprons protect chickens and hens who are being pecked on by other chickens.


Eyes
Sockets are used as eyes in the photo below. Caps can also be used for eyes.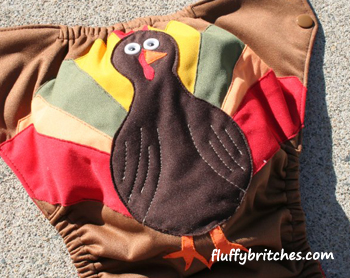 Applique LIttle Girl's Dress
This was a winning design on Project Runway. A dress with applique flowers attached with snaps. Most likely the snaps were installed in such a way that they couldn't be unsnapped (ie. like using just the cap & socket to "staple" the flowers to the dress) so the flowers wouldn't pose a hazard.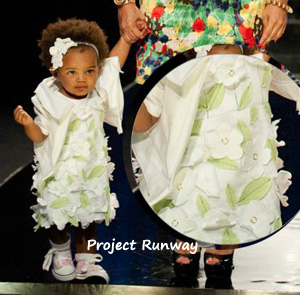 Artist Smock
Add a snap to an oversized tshirt & voila! A simple artist smock for your child. Tutorial at rachy2000.blogspot.com.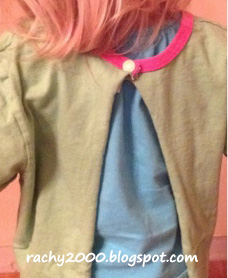 Baby Sleep Sack
A great tutorial on how to upcycle an old sweatshirt into a baby sleep sack is available at MontanaSolarCreations.com.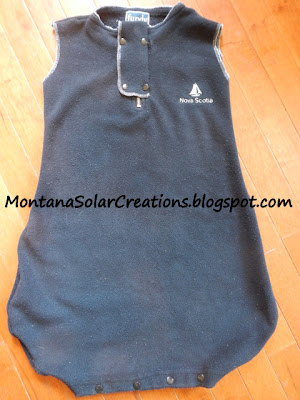 Replacement for End of Retractable Tape Measure
If the end "stopper" of your retractable tape measure broke off, you can put a snap on the end to serve that purpose.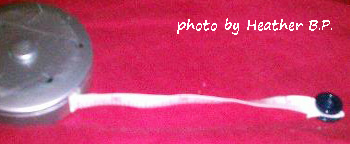 Shirt for Injured Arm
Add snaps to the side of a shirt to accomodate an injured arm that can't be slipped through the sleeve.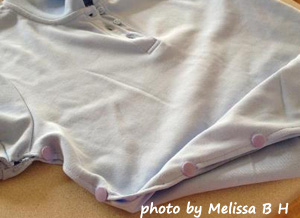 Perform "Surgery" on Toys to Teach Children about Special Needs
A fun and interactive way to teach children about those with special needs so they can be more accepting of people & animals with varying abilities.


Fabric Travel High Chair
Tutorial at ThisMamaMakesStuff.com. Velcro is used in the tute but snaps can be substituted.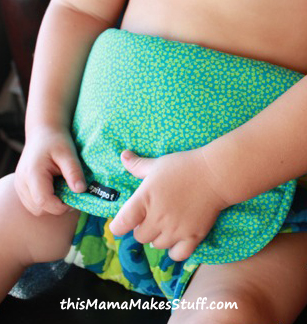 Snap-On Underwear
Fits over a spica body cast. Can also be used for anyone who wants an easy way to change underwear without sliding them down the legs or having to first take off pants.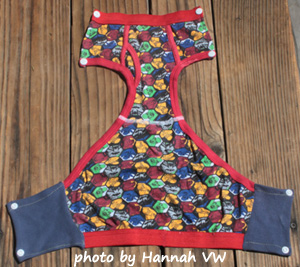 Snap Wrap Dress
Tutorial at PrudentBaby.com.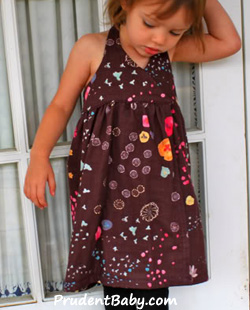 Diaper with Removable Dinosaur Tail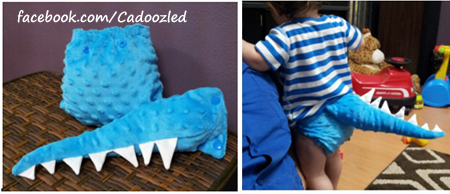 Potty Training Pants
Because everyone knows those poopy undearwear leave a messy trail when you have to slip them down the legs to take them off. These also allow you to change the pants while your child is standing up and without having to take off their shoes, socks, or pants. Tutorial at rachy2000.blogspot.com.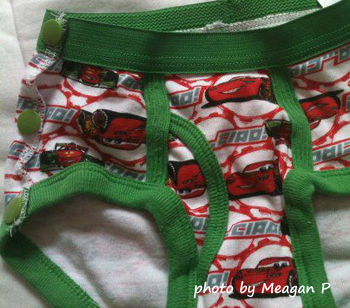 Reading Pillow
Snaps are used for the straps and can also be used at the pillow case opening to keep the pillow from falling out of the case.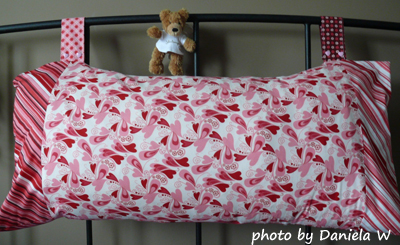 Handlebar Bag
Snaps are used as the closure and for the straps.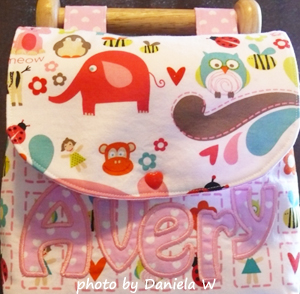 Onesie Dress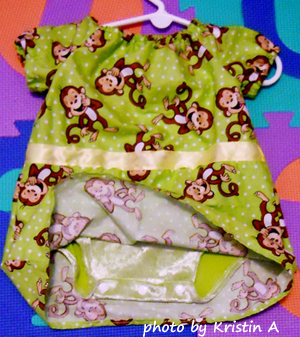 Diaper & Matching Snap-On Cape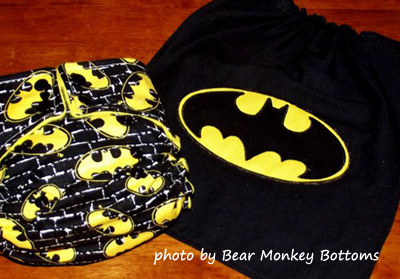 Replace Buttons (or Zippers) on Pants (& Shirts)
Tutorial at MontanaSolaorCreations.blogspot.com.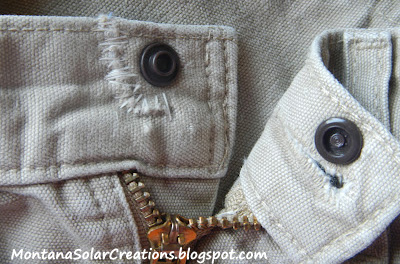 Pacifier / Teether / Toy Holder
Tutorial for sew & no-sew versions at KAMsnaps.com (under the Baby-related section).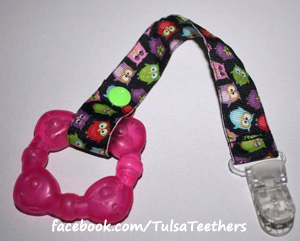 Add a Sunshade and Cargo Space to Stroller
Sunshade below was recycled from an expired car seat.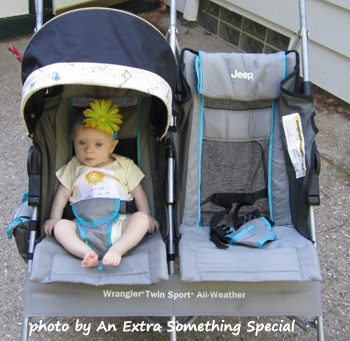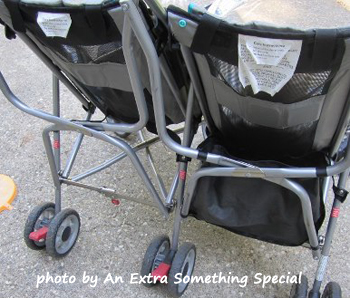 Convert Velcro on Cloth Diapers to Snaps
Tutorial and template for bumGenius, gDiaper, Thirsty Duo & more at KAMsnaps.com.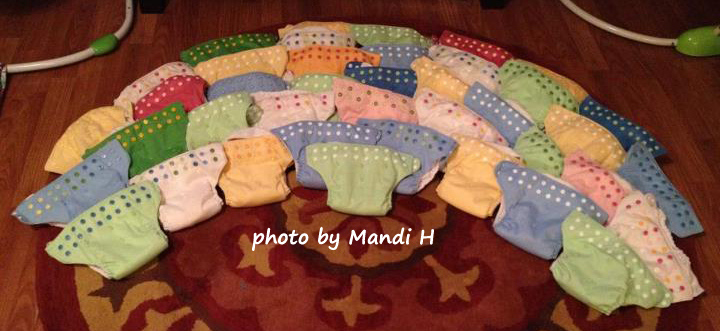 Widen Neck Opening
Tutorial at Thingsforboys.com.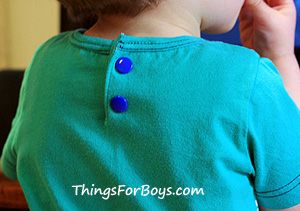 Gaiters
Replace broken straps with snaps.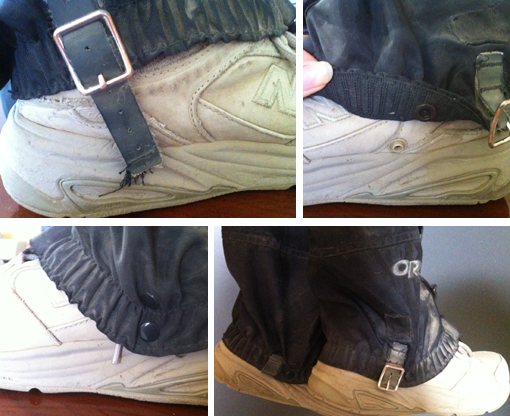 Cloth Diaper with Removable Mustache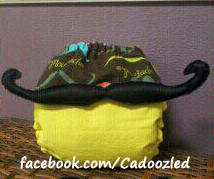 Hanging Pocket Organizer
Use it to organize your children's handheld games in the car by hanging it to the back of a car seat, nuts and screws in the garage, keys or recipe cards in the house, or anything else you can think of.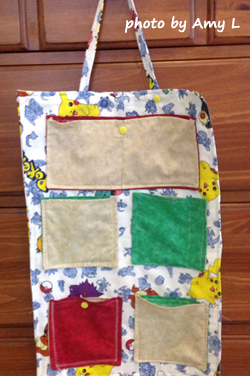 Reversible Toddler Overalls/Romper
With snaps down the legs for easy diaper changing. Pattern from SewBaby.com.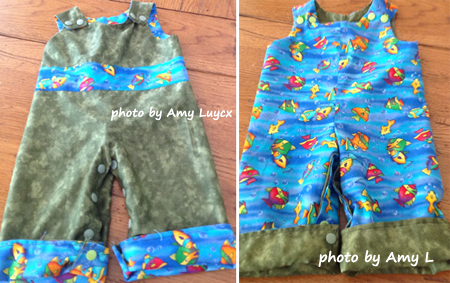 Crochet Top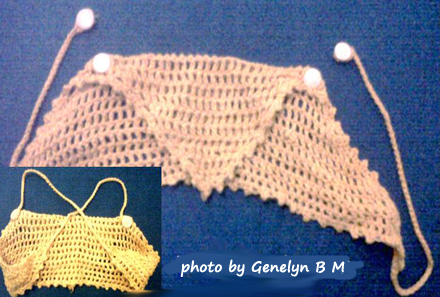 Snap-On Detailing on Ballerina Outfit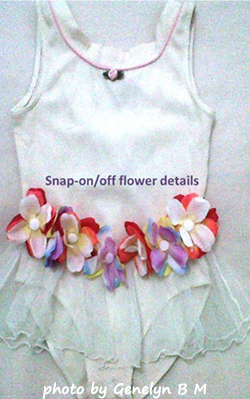 Art Case
With snap closures.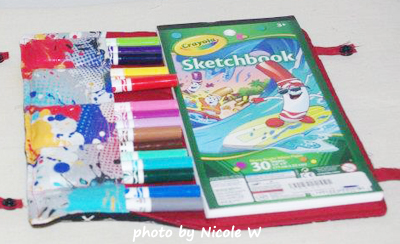 Summer Dress with Hat
Snaps were used for the adjustable straps, back closure and adjustable ties on the hat.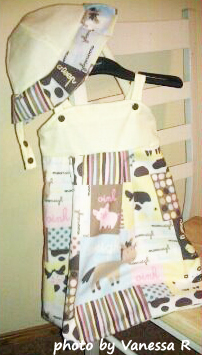 Arm Cover for Chair
Tutorial at diydanielle.com.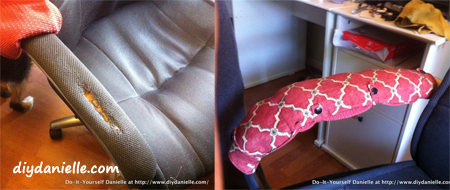 Rocking Chair Makeover
Use snaps to re-upholster a favorite rocker. Picture gallery at Facebook.com/vernita.d.salinas.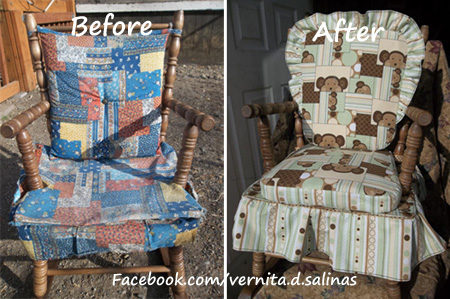 Romper
Tutorial on how to upcycle a t-shirt into a romper at sugarbeecrafts.com.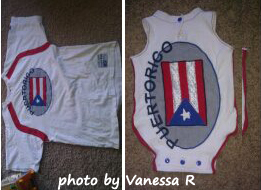 Snap-On Diaper Tutu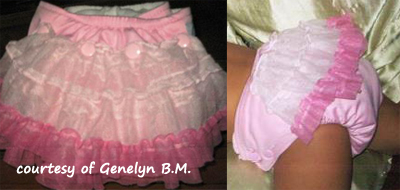 Snap-On Diaper Ruffle and Skirt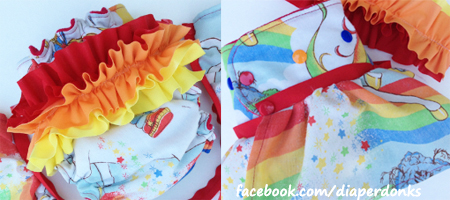 Purse Pocket
Tutorial at makeit-loveit.com.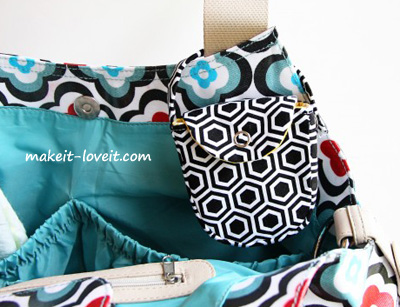 Baby Jumper
Free Jamie Jumper tutorial & pattern by Fishsticks Designs.
Free Sew Darling Mini Mocs tutorial & pattern by Darling Diapers.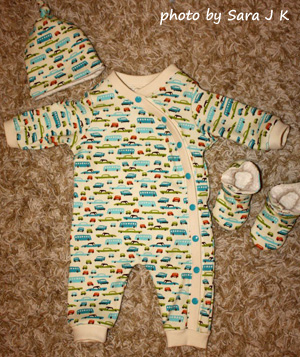 Stethoscope Cover
Tutorial at drusyquartz.blogspot.com.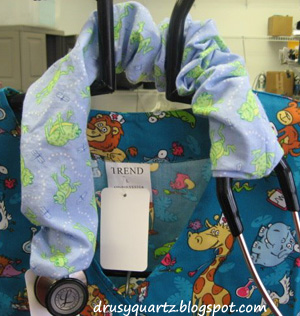 Roll-Up Car Seat Cooler
Holds ice packs.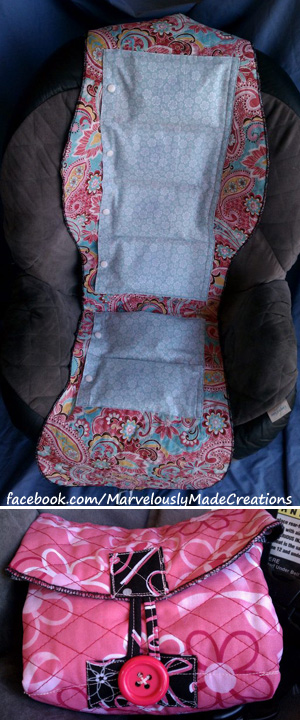 Nursing Bra & Tanks
Tutorial at montanasolarcreations.blogspot.com.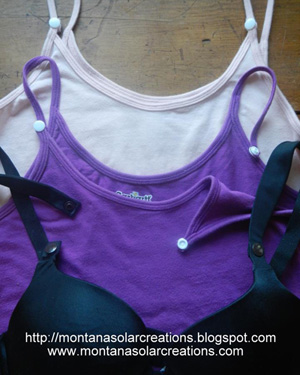 Interchangeable Suspenders
Tutorial at makeit-loveit.com.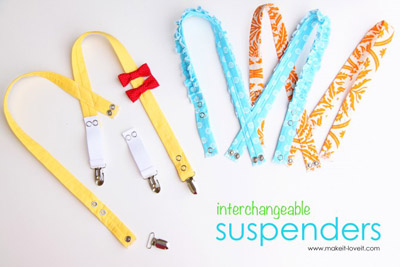 Towel Cover-Up with Removable Puppy Dog Hood
Tutorial at cherishedbliss.com.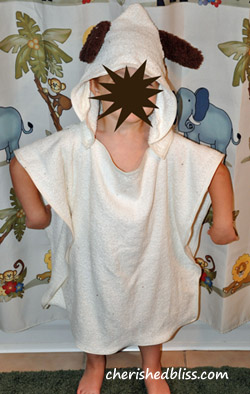 Add Straps to Hats
Tutorial at makeit-loveit.com.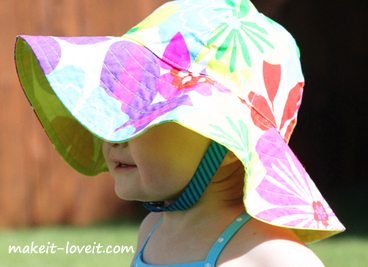 Add Snaps to Prefolds
Tutorial at kamsnaps.com.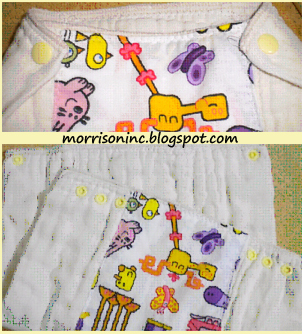 Felt Flowers
(You can use snaps instead of buttons)
Tutorial at sassysanctuary.com.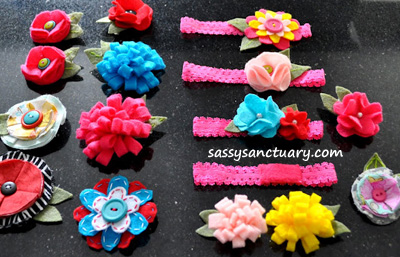 Dish Towel that Stays Put
Tutorial at sassysanctuary.com.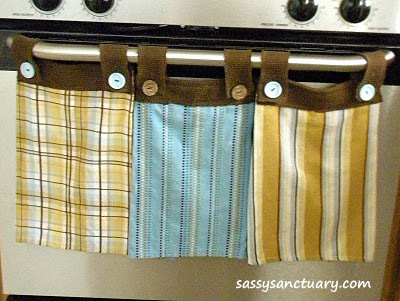 Cars on the Go with Snap Closure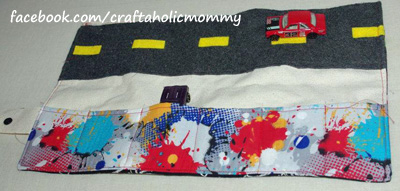 Sewing Caddy with Detachable Snap-On Serger Scrap Bag
Tutorial for the sewing caddy at howjoyful.com. For the additional scrap bag, according to Tera, the bag is a basic square bottom with boning instead of a drawstring in half the casing. sew the straps on, and add snaps.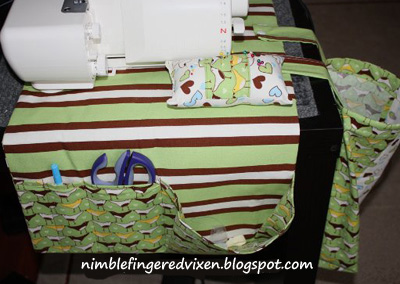 Travel Picnic Blanket Tote
A picnic blanket that you can fold and snap "closed" with straps for easy travel. Tutorial at diydanielle.com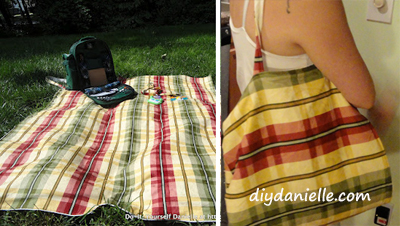 Electric Toothbrush Cover
A cover to protect the inside of the toothbrush head from accumulating dirty water and getting moldy. Tutorial at diydanielle.com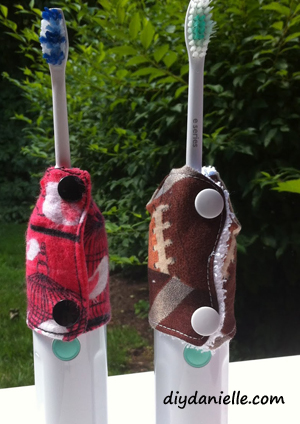 Diaper Holder
A diaper "dummy" to hold your cloth diaper open while you spray it clean. Tutorial at mamasquirrelmusings.blogspot.com.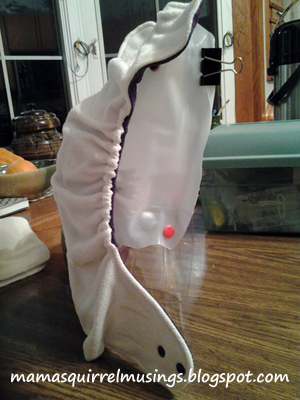 Chalk Holder
You can also hide little things in them and use them as surprise-filled building blocks for your child.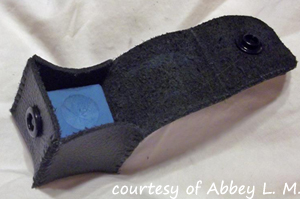 Convert a Baby Dress into a Bubble Romper
Tutorial at MakeIt-LoveIt.com.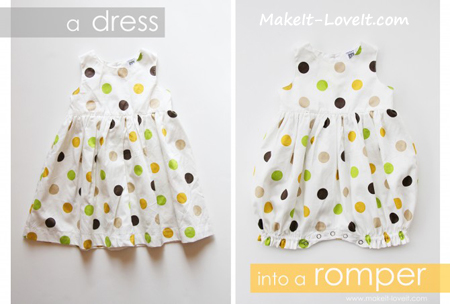 Toddler Terry Cover-Up
Tutorial at PrudentBaby.com.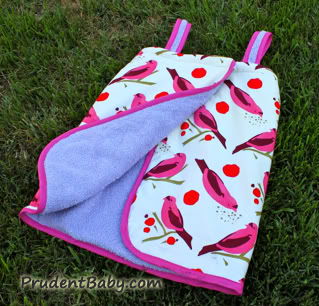 Tactile Sensory Book
You can teach your child about different kinds of fasteners or help him explore his tactile sensory and develop motor skills and coordination by creating a book full of various fasteners, such as a shoelace, zipper, velcro, buckle, buttons, and of course snaps! More info at craftster.org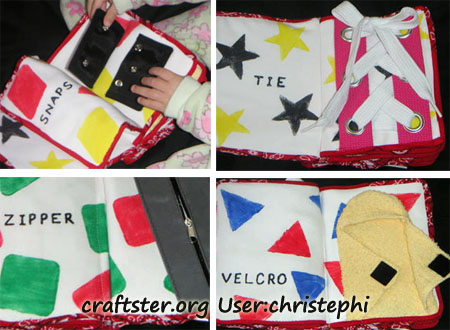 Hanging Dish Towel
Tutorial at kleiosbelly.wordpress.com.

Elastic Cinch Belt
Add snaps to a piece of elastic and stick them through belt loops for a quick, no-hassle, fumble-free belt. Place it in the front to use as a maternity belt. Tutorial at https://lilbeanbaby.blogspot.ca.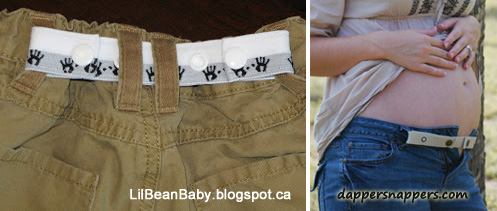 Stroller Blanket
Add straps with snaps to your child's blankie and attach it to the stroller so you never have to worry about it falling off.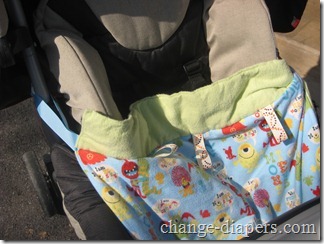 Hand Towel Bib
Tutorial at greenmommydiapers.com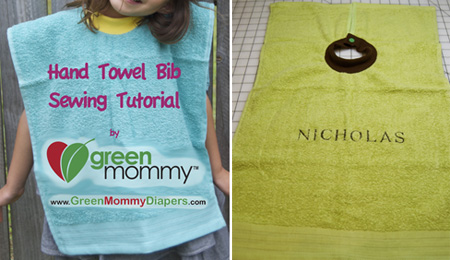 Reusable Container made from a Milk Jug
Video tutorial here. Container can be used for a sandwich, snacks, first aid supplies or any other small items, or even as an inexpensive but impressive-looking giftbox.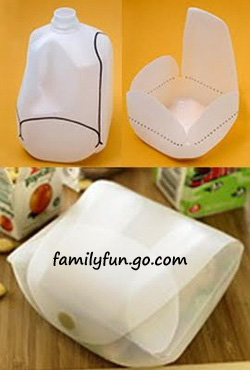 Lunch Bag
Use insul-fleece to keep hot food hot and cold food cool. Tutorial at sewcando.com. Or make a larger version and use it as an insulated grocery bag!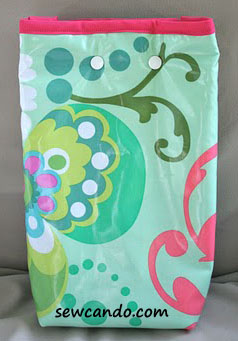 Scissor Holder Necklace with Removable Pin Cushion
Tutorial at thezenofmaking.com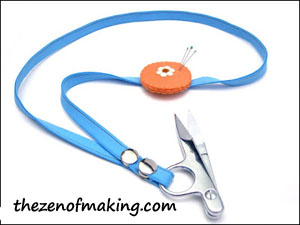 Mittens
Add snaps to mittens and gloves to keep them attached to the sleeve of your child's jacket.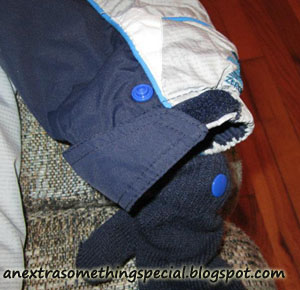 Onesie with Interchangeable Bow Ties
Not only are snaps used to secure the bottom of onesies, you can also add them to bow ties and snap them to the onesie for a dapper look.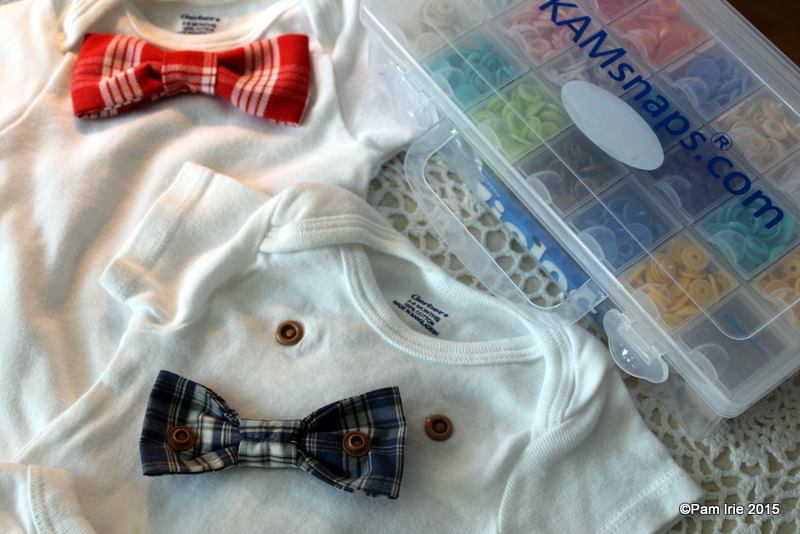 Weighted Snap Bags
Snap bags open a new world of gross-motor, fine-motor and social skill game opportunities. Make them in various colors with numbers and shapes for sorting and matching. Use different textured fabric for sensory therapy. Throwing and catching are made easy with two Snap Bags linked together. Attach all six and use as a shoulder or lap weight for a calming presence.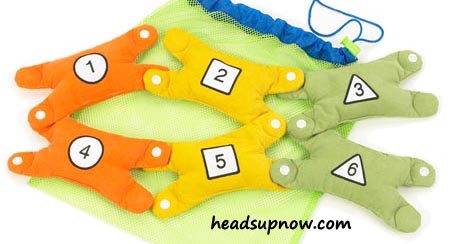 Crib Rail Teething Guard with Ties
Tutorial at thingsforboys.com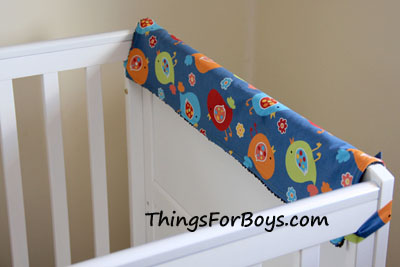 Crib Rail Teething Guard without Ties
Tutorial at Blogspot.litcentric.com.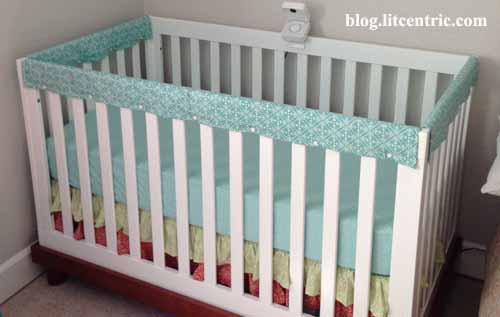 Ergo Suck Pads
If your baby has a tendency to suck on the straps of your ergo carrier, add these suck pads to keep the straps clean. Tutorial at doityourselfec.blogspot.com. You can also add snap loops for toys on each pad.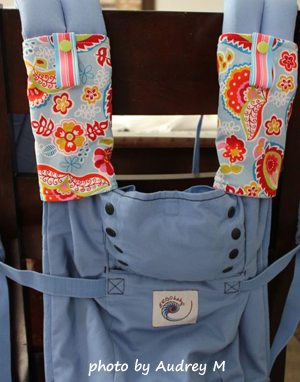 Wet Bag with Loop
The snappable loop makes it possible to hang the bag from doorknobs, changing tables, towel bars or whatever else you might find.


Baby Carseat Cover
A carseat cover provides protection for baby from cold wind and rain. You can also add snaps to a baby blanket to keep it from falling off a stroller or embellish it with bows!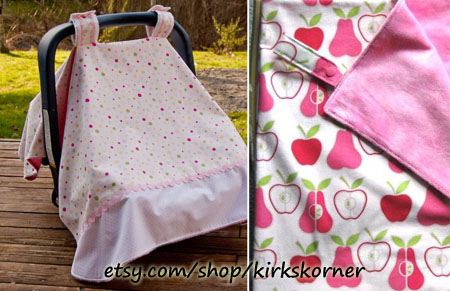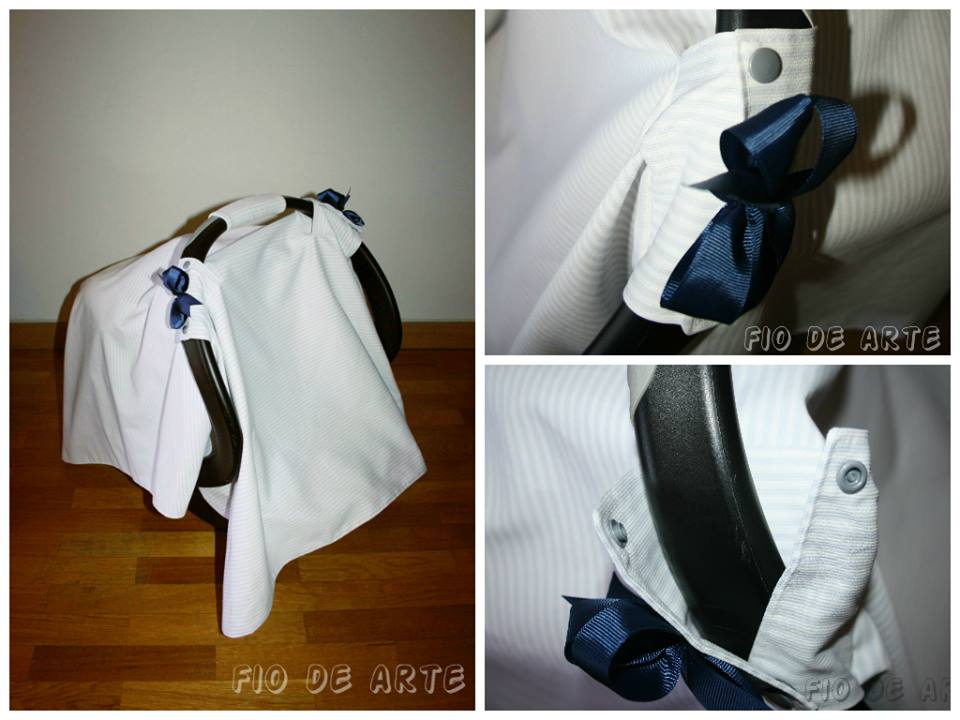 Adult Incontinence Snap-On Pants
With the snap closures, there's no need to take off slacks or trousers in order to remove the adult pants, so changing in public restroom is easier. Also a great option for those with mobility limitations and their caregivers.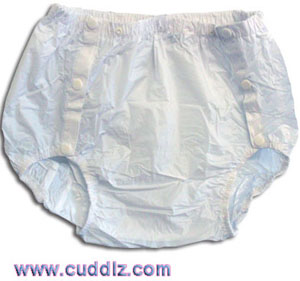 Quick On/Off Snap Loop (Alternative to Key Rings)
Make your own simple & versatile snap loops for anything that needs to attached to something and removed often. The picture below shows the snaps on hard plastic but you can use any kind of fabric such as leather, grosgrain ribbon, elastic bands, etc. I like to put bells on my dogs' collars whenever we go to the park so I can always hear them but don't want the dogs wearing them at home, and with these snap loops, they're easy and quick to put on and take off. Make a loop for each key so that it's easy to remove a specific key from your key ring, such as when you bring your car to the shop and have to leave the car key with them. The possibilities are endless!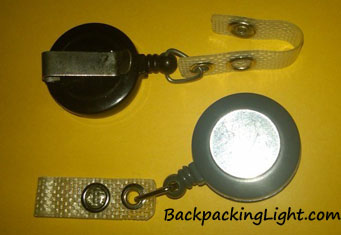 Sweat Band for Construction Hard Hats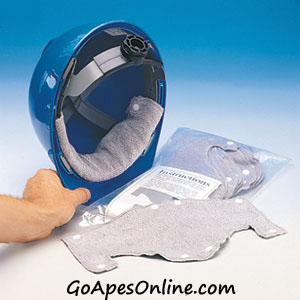 Interchangeable Decorations on Shoes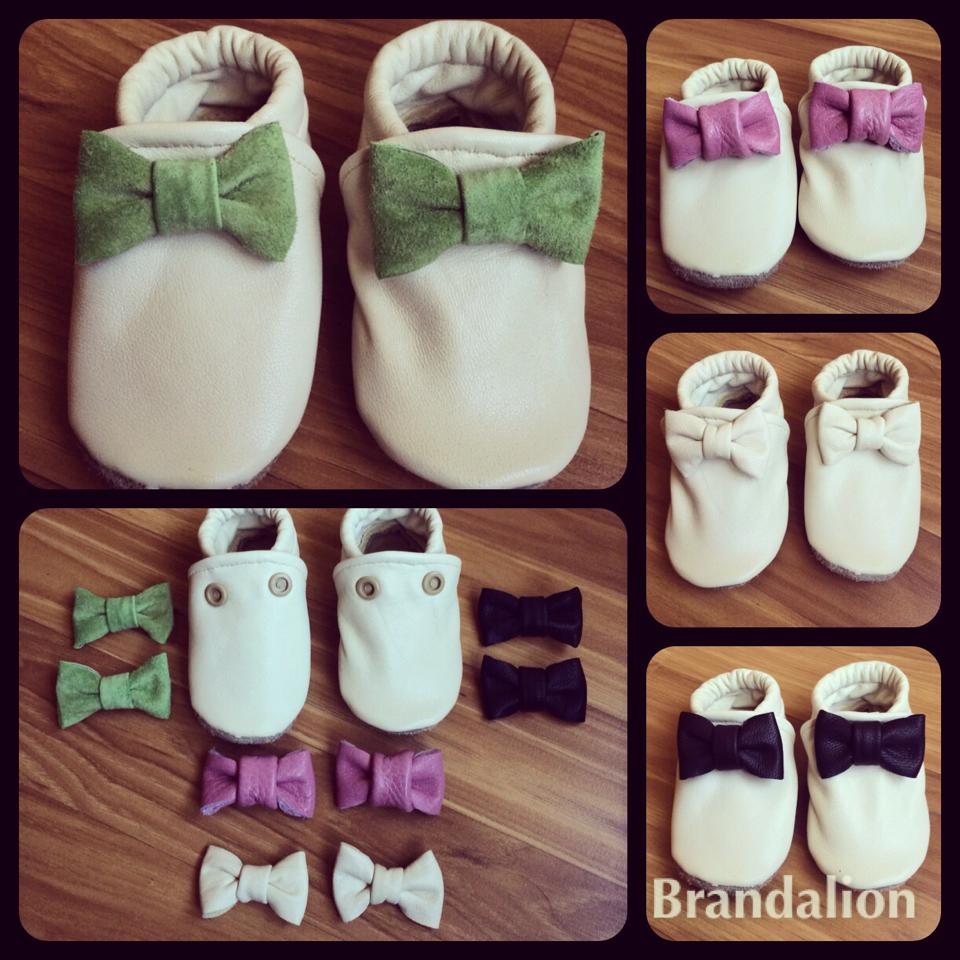 Foldable Shopping Bag
It folds so you can easily keep a few in your purse. Tutorial at CraftingForMommies.Blogspot.com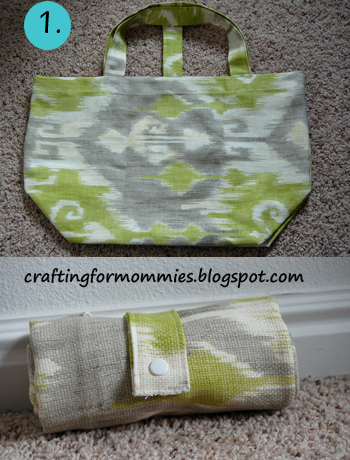 Socks
Add snaps to the cuffs of socks so they can be snapped together before putting them in the hamper. Use different colored snaps to identify which socks belong to which child. Add little snap-on bows or other accessories for some fun and to help hide the snaps on the socks when wearing shorts or a dress.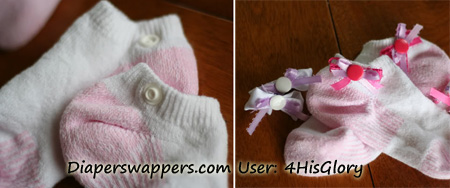 Zipper Tab
Tutorial available at SewSomethingSpecial.blogspot.com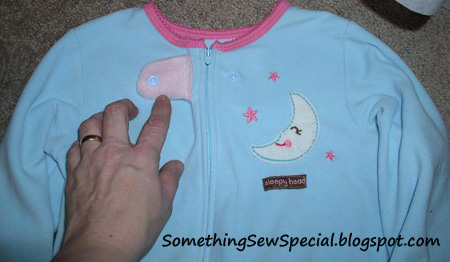 Cyclops Monster with Detachable Teeth
And you can write a note on each tooth!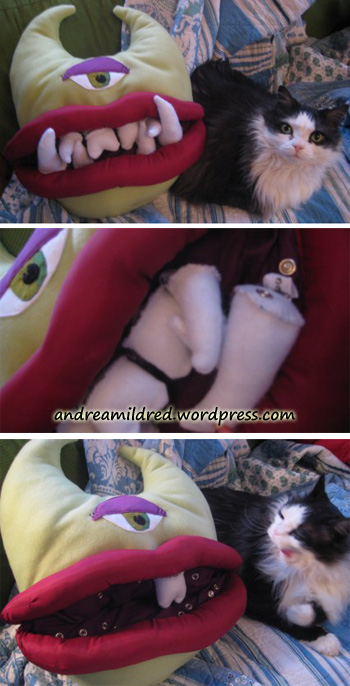 Keyring with Interchangeable Flowers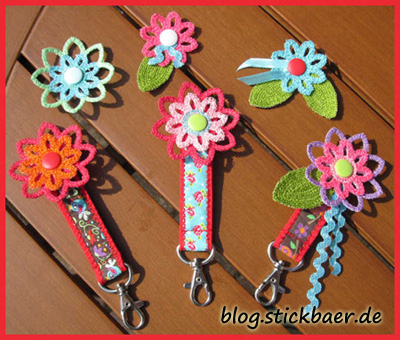 Bib Extender
Has your baby outgrown her bib already? Save money by extending the opening with a bib extender. Tutorial available at CraftPassion.com.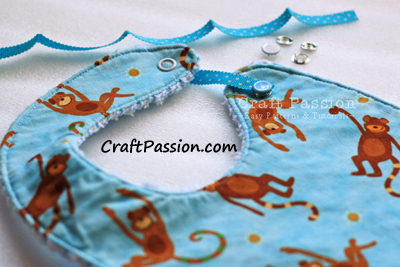 Fold-Up-and-Snap Bib
The bottom folds up and snaps to make a pocket for catching crumbs. After mealtime's finished, just unsnap the pocket and shake it out over the trash, and toss it in the wash! Tutorial available at SewMamaSew.com.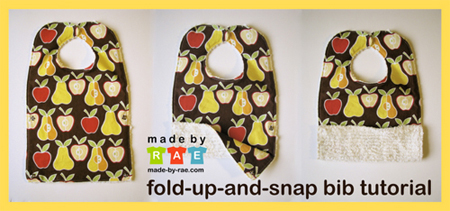 Expandable Coin Purse
Tutorial available at SewTimeless.net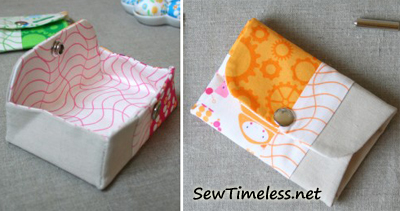 Pleated Wrist Cuff
Tutorial available at PositivelySplendid.com


Baby Cargo Pants with Snaps
Tutorial available at MeSewCrazy.com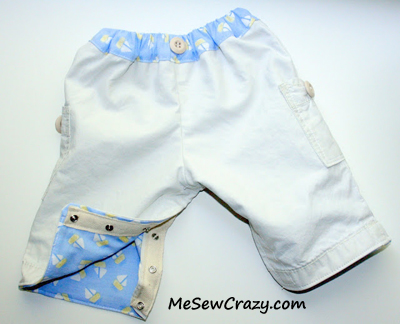 G-tube Pad
Gastrostomy tubes are placed in the stomach to provide an alternate way to offer food or medicine. They can also be used to vent the stomach for air or drainage. G-tube pads help to absorb any leakage and to slow buildup of granulation tissue around the tube. They can also help to brighten the day of your g-tube child. Tutorial on how to make a basic round g-tube pad available at MyLittleFighter.Blogspot.com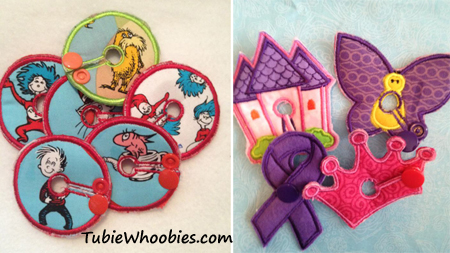 G-Tube-Friendly Romper
These specially designed rompers have snap-able flaps and openings to protect the tube from baby's fingers while providing easy access for caregivers.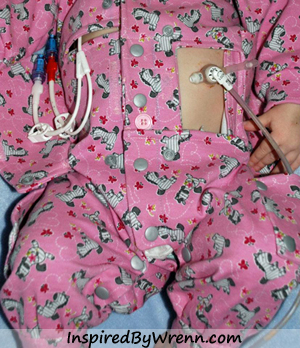 Stuffed Animals with G-Tubes
Stuffed animals or dolls with g-tubes.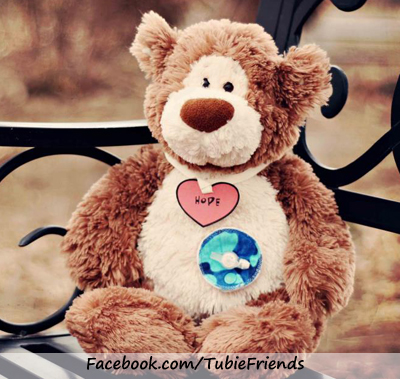 Wet Wipe-To-Go
A handy, reusable wet wipe that you can roll up and toss in your purse. No ziploc needed because it has its own waterproof cover. Tutorial available at TheRealLifeHome.WordPress.com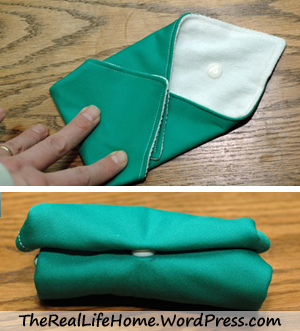 Crocheted or Knitted Items
Labels
Add interchangeable labels to identify your stuff so they don't get lost.
Handbags
Snaps allow you to add your own embellishments to handbags, and to interchange them.
SnapazooTM Toy
Pattern to make your own available
here
.
Fabric Covered Snaps
Complete tutorial
available
here
.
Unpaper Towels
Bib
KAM snaps were also cleverly used as the eyes in the applique design!
Head Band
A star snap was used in the center of the flower and allows the flower to be detached so the headband can be mixed and matched with other accessories.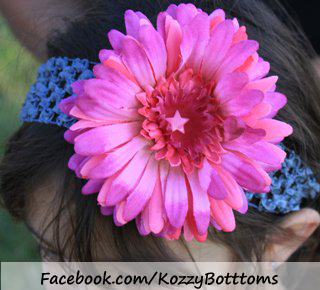 Decorative Closures on Clothing
Star snap closures embellish an already beautiful design on this skating costume.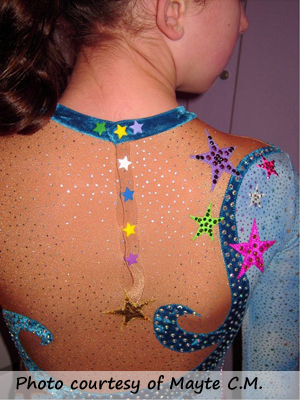 KAM heart snaps decorate the front of this adorable Smitten Lovebirds dress, as well as provide matching closures on the back.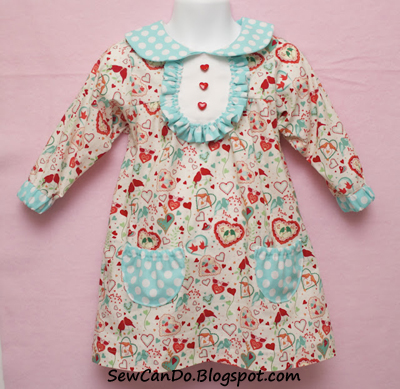 Patchwork Bracelets Using Recycled Materials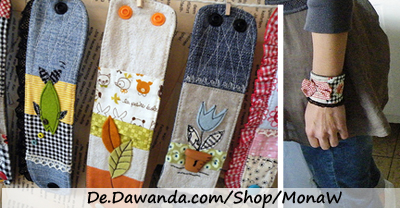 Interchangeable Flip-Flop Back Straps
Complete tutorial available at Make It & Love It. Open-ring metal snaps are used in the tute, but our KAM plastic snaps would work just as well and would also add a splash of color.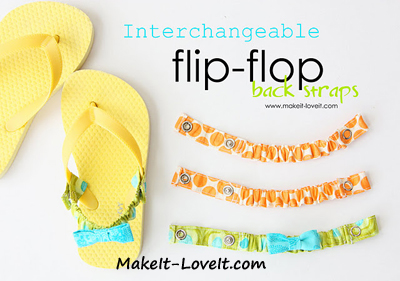 No-Sew Sham Closure
The full post can be found at Dirty Diaper Laundry.



Wrist Wallets
Tutorial available at LemonSqueezyHome.com. We recommend using snaps instead of velcro.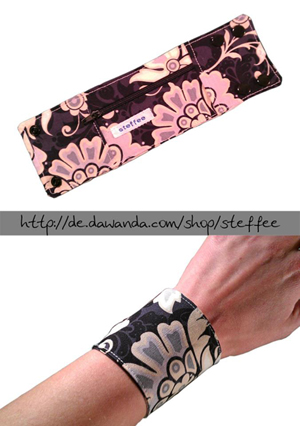 Superhero Capes, Cuffs, and Crowns
Tutorials available here under the "For Children" section